Podcast: Play in new window | Download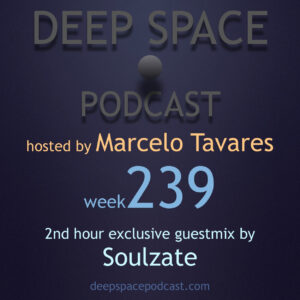 E ae!
Welcome to Deep Space Podcast! Many thanks for listening.

Deep Space Podcast • 7 years • 239 episodes! Thanks for your support.
Today we have an amazing and exclusive guestmix by Soulzate (Pretoria, South Africa).

Please check more about Soulzate in the links below:
www.facebook.com/soulzate.mbewe
www.facebook.com/SoulzateAndEmitate/
soundcloud.com/deepsolids-podcast

Enjoy the week239!
Playlist:
Artist – Track Name – [Label]

1st hour mixed by Marcelo Tavares
1) No Go Stop – Animal (TRZ Afrodub Remix)
2) Azymuth – Fênix (Ron Trent Remix) – [Far Out]
3) Paxton Fettel – Aurora (Siren Song Of A Counter Culture) – [Greta Cottage Workshop]
4) Marcel Lune – Pinnacles – [Local Talk]
5) Telephones – DTMF (Call Super Remix) – [Running Back]
6) DJ Plant Texture – Afi – [10 Pills Mate]
7) Forest Drive West – Scanners – [Livity Sound]
8) Greymatter – In Shade – [Unique Uncut]
9) Vicmari – Talk Talk
10) Alex Under – El Reflejo Del Lacar – [Kompakt]

2nd hour exclusive guestmix by Soulzate (Pretoria / South Africa)
1) Trancemicsoul – The Calm Before The Storm – [Redb Bull Studios]
2) Parker Madicine – Placebo – [Heist Recordings]
3) Piers Kemp – Blue Sphere (Pysh Remix) – [Something Different Records]
4) Zillah (SA) – Don't Trust People (Lah Phonics Retro Dub) – [AfroMove Music]
5) Cuthead – Fuck That Shit – [Local Talk]
6) Soulzate & Emitate – Missing Somewhere – [AfroMove Music]
7) Da Lex DJ – Raw Cut 1 – [CDR]
8) Chopstick & Johnjon – Last Night – [Suol]
9) Shur-i-kan – Deep In My Heart – [Lazy Days]
10) Darko Kustura – Messier Object – [Quartet Series]