Podcast: Play in new window | Download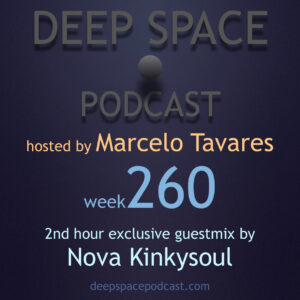 E ae!
Welcome to Deep Space Podcast! Many thanks for listening.
This is the last show of 2017! Many thanks for the support!
In the 2nd hour of today's episode you gonna listen the exclusive guestmix by Nova Kinkysoul! He is the boss behind Crates Cartel, a nostalgic, pop up vinyl session bringing forth the most sophisticated U.G Crate diggers covering genres – Beats Disco Funk & House.
Please check more detailed information about Nova in the links below:
https://www.facebook.com/cratescartel
https://www.facebook.com/Nova.kinkysoul
See ya in 2018! Happy Holidays and Happy New Year!
Enjoy the week260!
Playlist:
Artist – Track Name – [Label]
1st hour mixed by Marcelo Tavares
1) SFV Acid – Wheat – [BAKK]
2) Albrecht La'Brooy – Escape Velocity – [Voyage]
3) Dauwd – Leitmotiv – [Technicolour]
4) Dada Attack – Reflections – [Perception Corp.]
5) Takuya Matsumoto – Time – [BM]
6) Anthony Naples – Us Mix – [Proibito]
7) Amazon Club – Guyana – [Voodoo Gold]
8) Solemn – Rausessions – [Paunchy Cat]
9) Waterpark – Sun Runner – [Waterpark]
10) Mephia – Dub Illusion (Original Mix) – [Society 3.0]
11) Nacho Marco – Dreams – [Loudeast]
2nd hour exclusive guestmix by Nova Kinkysoul (South Africa)
1) Ed Wizard & Disco Double Dee – Endless Love – [Editorial]
2) Duff Disco – Always On My Mind
3) Joseph Tacker – Biggie Calls – [Big Bait]
4) Langenberg Feat. Blakkat – Shadows – [Dessous]
5) Odysea – Cold & Sheep – [Big Bait]
6) Purple Velvet – Live On The Avenue (Thatmanmonkz Remix) – [Kolour Limited]
7) Leigh Morgan – Pie On The Sly – [Fancy Human]
8) Monicka – Floating Herbert – [Big Bait]
9) Kuniyuki & Jimpster – Kalima's Dance (Sprinkles' Deeperama) – [soundofspeed]
10) The Mole – Lockdown Party (Sprinkles' Crossfaderama) – [Perlon]