Podcast: Play in new window | Download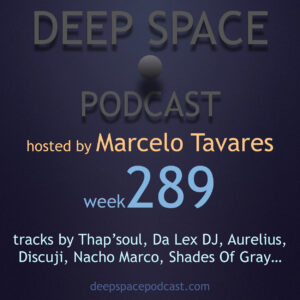 E ae!
Welcome to Deep Space Podcast! Many thanks for listening.

I'm back with a brand new show! I miss you so much, guys! I was very busy with jobs and also with preparations to Avant Garde Vintage Lounge Troupé Brazil tour. They've played 3 gigs here in São Paulo, 2 with me and 1 alongside DJ Tahira. Best regards to my friends Trev The Japanese, KsK and Thabo Phalatse.
So, the today's show is one hour by myself with new tracks and also older ones that are missed in the podcast.
Enjoy the week289!
Playlist:
Artist – Track Name – [Label]
1) Thap'soul – Parallel Lines (Thapped in the Dark Mix)
2) Da Lex DJ – So Weary (Your Love Is Jus- So) (Original)
3) Aurelius – Sleep Walking (Cebestian.V The Lucid Dreamer Remix) – [Kanzen]
4) Discuji – Paradox Garage – [Better On Foot]
5) Nacho Marco – Tell Me Something – [Ovum]
6) Shades Of Gray – Soul Machine – [Beef]
7) Thompson – Phantom Hourglass – [Hair]
8) Kgosi Motlhabi – Ya Taifa Moja – [Love Is In The House]
9) Anchorsong – Correlate – [Tru Thoughts]
10) DJ Scossh Mdonori – Keep Moving (Percussion Mix) – [Dolphin Sound]
11) Fort Romeau – Sattelite 2 – [Fort Romeau]