Podcast: Play in new window | Download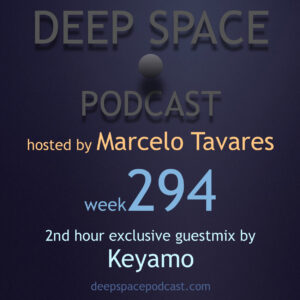 E ae!
Welcome to Deep Space Podcast! Thanks for listening.
This is the penultimate episode of 2018!
Merry Christmas for you, family and friends!
Big shout out to Christian Steinberg for constantly supporting, because of friends and listeners like you the podcast is still running. Massive thanks and Merry Christmas, Chris!
Today, we gonna listen an exclusive guestmix by KEYAMO in the 2nd hour.
Enjoy the week294!
Playlist:
Artist – Track Name – [Label]
1st hour mixed by Marcelo Tavares
1) Vetja Lavita – Siy'seven – [Vetja Music]
2) Joey Negro – Distorting Space Time (Ron Trent Remix) – [Z]
3) Nacho Marco – The Reach – [Muak Music]
4) Redshape – The Box – [Present]
5) DJ Different – Dolla Signs on My Minds – [Mood Of The Era]
6) Jad & The – 2 Getha – [Fina]
7) Klauss & Graig – Repeat After Me (DJ Deep & Traumer Free Your Mind Remix) – [Planet E Communications]
8) The 7th Plain – Time Melts – [GPR]
9) Till von Sein – Aloha – [Tilly Jam]
10) Grijo – Zancle (Dub Mix) – [Nordic Trax]
2nd hour exclusive guest mix by Keyamo
1) Deep Sentiments – Wind Hunt (Original Mix)
2) Deep Sentiments – She Missed A Stab (Shervaan Bergsteedts Perspective) – [Just Move]
3) Shervaan Bergsteedts – Parallel Universe (Original Mix) – [Laboria Park]
4) Ofuren – Ripples Through Reflection – [Roots Go Deep]
5) Luka – Go Deeper (Ofuren's Smoked Filled Room Treatment) – [We Go Deep]
6) Deep Meyer – Alone In Russia (Thorne Miller Remix) – [Just Move]
7) Jouem – Real of Darkness – [Mojuba]
8) Amberscape – HowILoathe (Alveol HowILove Remix) – [Noisy Meditation]
9) Alveol – Not Yet A Memory – [Absurde]