Podcast: Play in new window | Download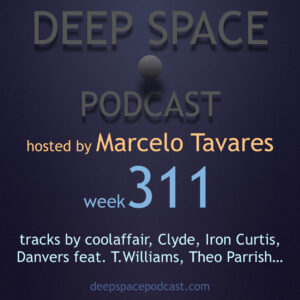 E ae!
Welcome to Deep Space Podcast! Many thanks for listening.
I've sad news guys… Due to family commitments, I'll no longer be able to go to South Africa this December… So sorry… But, I'll be there in 2020 at March!

Enjoy the week311!
Playlist:
Artist – Track Name – [Label]
1) coolaffair – Afro Futuristic – A Conversation With The Black Future!
2) Clyde – Roll of the Beasth (Atjazz Astro Remix Instrumental) – [M8MC]
3) Iron Curtis – Werc Werc Werc (Andy Hart Remix) – [Tamed Musiq]
4) Danvers feat. T.Williams – Calmer – [CoOp Presents]
5) Theo Parrish – This Is For You (Instrumental) – [Sound Signature]
6) Kyle Hall – Ghosten – [Third Ear]
7) Rephlex & KVRVBO – Over The Edge – [Just Move]
8) Kabee – Pantaloons (Kabee Drastic Dream Mix) – [Zillah Muzik]
9) Deephope – Coffee Time – [Sajgon]
10) Roi Azulay – Hillula – [Atypical Dopeness]