Podcast: Play in new window | Download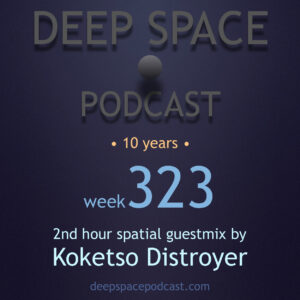 E ae!
Welcome to Deep Space Podcast! Many thanks for listening.
I hope all you guys and you family are well safe among this chaotic situation. Please stay at home, ask for your local government to work for you. Time has come to governments works for us!
Stay at home listening to good music over here at Deep Space Podcast! I'll be live streaming in the studio, you can check previous recordings in the link below:
https://deepspacepodcast.com/broadcast/
You gonna listen today a spatial guestmix by KOKETSO DISTROYER in the 2nd hour!
Enjoy the week323!
Playlist:
Artist – Track Name – [Label]
1st hour mixed by Marcelo Tavares
1) Tawanda – Like Rain – [Guangzhou Underground]
2) Lars Bartkuhn – Human (Full Experience) – [Visions]
3) Nick Araguay – Gédéon – [Sähkö]
4) Afefe Iku feat. Boddhi Satva – Manda Island – [Yoruba]
5) ARIF – Ultra – [Nous'klaer Audio]
6) Space Ghost – Prayer For U – [Apron]
7) Steven Legget, Mark Hand feat. Greg Blackman – If You Cannot Try – [Apollo]
8) Shinichi Atobe – So Good, So Right – [DDS]
9) Cuebur & Freedom Elementz – Mind Control – [Stay True Sounds]
2nd hour spatial guestmix by KOKETSO DISTROYER
1) DJ Buhle – Winter Call (China Charmeleon The Animal Remix)
2) Abdul Horus – Tree of light – [U-Man]
3) OzzLa Deep – Spacies on earth – [Heart N Soul]
4) House Victimz – The Letter (Healthy Mix)
5) Wipe The Needle ft Alex Lattimore – Enchanted (0725 Soulful Remix)
6) Deep Xcape – Seasons
7) ElementicSoul – I need Love
8) MdCL ft Lady Alma – Far Away (The Layabouts Vocal Mix)
9) Lee Burridge & Lost Desert – Loopyness (ADID019 Remix)