Podcast: Play in new window | Download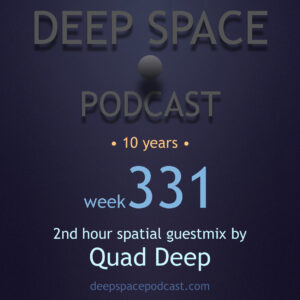 E ae!
Welcome to Deep Space Podcast! Many thanks for listening.
Stay safe, wash your hands and stay home listening to Deep Space Podcast.
You gonna listen today a spatial guestmix by Quad Deep.
Please check more information about Quad Deep in the link below:
https://quaddeep.websites.co.in
Enjoy the week331!
Playlist:
Artist – Track Name – [Label]
1st hour mixed by Marcelo Tavares
1) Jas Shaw – What You Write And What She Reads – [Delicacies]
2) Emanuele Pertoldi – Dream Reality
3) Jayson Wynters – Hollow Vessels – [Life Notes]
4) Perdu – Equalizing the Truth – [This Is Our Time]
5) Leafar Legov – In your Mirror – [Giegling]
6) Alex Agore – Bae – [Moment Of Truth]
7) Vince Watson – The Spirit Dance – [Yoruba]
8) Four Walls & Funkyjaws – Jazzy Things – [Plastik People]
9) Byron The Aquarius – Feelings Is It Real – [Shall Not Fade]
10) Boo Williams – Saving Time – [House Of Underground]
11) Tilmann Jarmer – Sky Blue – [Old New]
2nd hour spatial guestmix by Quad Deep
1) Rob Toca & Lazarusman – Moya Wami [Kalushi]
2) Frankey & Sandrino – Wega – [Innervisions]
3) Kek'star – Motion – [Azania Digital]
4) Biohazard People – Hausu Myujikku [OneBigFamlily]
5) Tahir Jones & Fka Mash – Easy – [Xpressed]
6) Black Motion feat. Xoli – Set Me Free (Ezel Remix) – [Black Motion]
7) Opolopo feat. Shea Soul – Be Enough – [Tone Control]
8) Ame – Rej – [Sonar Kollektiv]
9) HyperSoul-X feat. Zee, DVO – Isoka Lam – [Hyper Production (SA)]
10) Onur Ozman & Lazarusman – It Hurts (Audio Junkie Remix) – [Compost]