Podcast: Play in new window | Download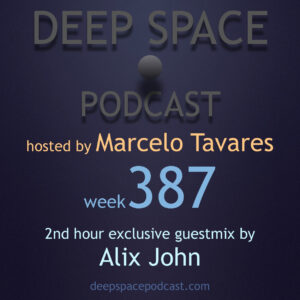 E ae!
Welcome to Deep Space Podcast! Many thanks for listening.
Big up to Mr. Baseley, Ed Muschamp, DJ Zeb and Holger Witt. Many thanks for the support!
You gonna listen in the today's show an exclusive guestmix by Alix John (Just 4 The Beats Records – Music 4 The Deeply Minded, London/UK).
Please check more information about Alix John in the link below:
Soundcloud: https://soundcloud.com/just4thebeat-records
Enjoy the week387!
Playlist:
Artist – Track Name – [Label]
1st hour mixed by Marcelo Tavares
1) Vicmari – Turnbalk Jubile – [Blur]
2) PJOTR – Pine – [Ethereal Sound]
3) Deepad – Pad Clouds – [deeplimit]
4) Serb – Cellar Meet – [Night Defined]
5) Faserklang – Drifting Clouds (Basicnoise Remix) – [Drift Deeper]
6) Don Cuco – New Love – [Ocha]
7) Deepcut – Presence – [ODrex Music]
8) Neuronphase – Light – [Deep Inspiration Show]
9) Knate Koti – Crescent Moon (Original Mix) – [AfroMove Music]
10) Jump Source – Nearly There – [Pacific Rhythm]
2nd hour exclusive guestmix by Alix John
1) Apiento – Things You Do For Love
2) Princess Freesia – Play With Me – [Digisoul]
3) Linkwood – Fate – [Firecracker]
4) Robert Owens – Black Diamond – [Compost]
5) Vick Lavender – The NiteFlyte (Jessie's Journey) – [Forbidden Dance]
6) Tom Flynn – For The Record – [Into Orbit]
7) Laika – Third Attempt – [Beatservice]
8) Secret Witness – More For Us – Bienvenue
9) Passport – Flight Fantasy – [Deep Inspiration Show]
10) Mark E – In The City – [18437]
11) Secret Witness – Endless Nights – Bienvenue
12) Passport – Nautilus Dust – [Deep Inspiration Show]
13) Terry Tester – Clear – [Copenhagen Underground Posse]
14) Felipe Gordon – Highly rhythmic Pace – Heist