Podcast: Play in new window | Download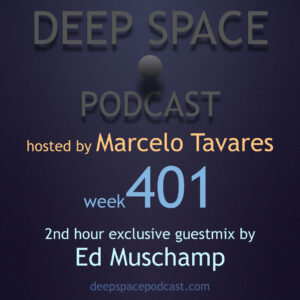 E ae!
Welcome to Deep Space Podcast! Many thanks for listening.
We gonna listen in the today's show a dope guestmix by my brother Ed Msuchamp from Depth Charge Sessions, UK! We play along James Baseley and Zeb K every Thursday on DCS via Twitch.
Please check more information about Ed in the links below:
Twitch: https://twitch.tv/ed_muschamp
Mixcloud: https://www.mixcloud.com/ed-muschamp
Enjoy the week401!
Playlist:
Artist – Track Name – [Label]
1st hour mixed by Marcelo Tavares
1) Simoncino – Jungle Dream (Ron Trent Remix Part Two) – [Hot Mix]
2) Steffi – Moving Lips – [Ostgut Ton]
3) Gratts Feat. Brian Ruiz – Euphoria (Original Instrumental) – [Flexi Cuts]
4) Roy Davis Jr. – Gabriel (The Scroll Mix) – [Large]
5) Flabaire Feat. Frank H Carter III – Tribute – [Pont Neuf]
6) Gnork – Euphoric Vibes – [R.A.N.D. Muzik]
7) DKMA – Trifling – [Guidance]
8) Life Recorder – Sliding Away – [Life Notes]
9) Rekee – Sunshine – [Sistrum]
10) Genius Of Time – Sunswell – [Oath]
11) c_olvrin – Cryogenic Freezing of Friends (Conoley's Soulmates Mix) – [Continental Drift]
2nd hour exclusive guestmix by Ed Muschamp (Depth Charge Sessions, UK)
1) Deepchord Presents Echospace – Warm – [Modern Love]
2) Stelka – Laws Of Wisdom (Original Mix) – [Deep Clicks]
3) SGVO – Vibrations – [Stay True Sounds]
4) Boet Quality – Different Faces – [Black Error]
5) Dwson & Atjazz – Weightless – [IMPLSV]
6) Thabang Baloyi – Save Me – [Just Move]
7) The Aquablendz & Budda Sage Feat. Nossy Mseleku – Wanna Dance (Dub) – [Views]
8) Shur-I-Kan – Whole Lotta Lover – [One Thirty]
9) Fred Everything & Shur-I-Kan – Common Ground (Dub) – [Tsuba]
10) Gabbana – Anomalies (2022 Remaster) – [Gabanna Music]
11) Zulumafia – Dream of Love – [Moyo Muziki]