Podcast: Play in new window | Download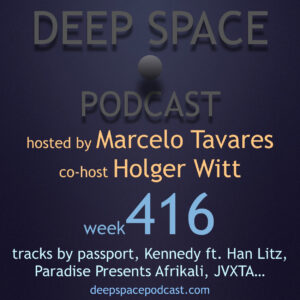 E ae!
Welcome to Deep Space Podcast! Many thanks for listening.
One more co-host featured in the podcast! The co-host for the today's show is Holger Witt aka DEEPERHOLG, a Spatial Listener for a long time now, and has one guestmix published in the show. Now he's the co-host for this specific episode, week416.

We both played this past weekend at Órbita, and his mix is available in two parts:
Part 1: https://hearthis.at/8760664/
Part 2: https://hearthis.at/8760928/
Many thanks Holger for your support!!!
Check information to be Spatial Listener or co-host at:
https://deepspacepodcast.com/subscribe
Enjoy the week416!
Playlist:
Artist – Track Name – [Label]
1) Masahiro Takahashi – Cloud Boat – [Telephone Explosion]
2) Tapes meets Nikolaienko – Rush to Closing Gates – [Porridge Bullet]
3) The Inner Sleeves – Inner Engineering – [Horisontal Mambo]
4) Monoconda – Weakness – [Kashtan]
5) Popp – Pingo (Air Mix) – [Public Possession]
6) Lord Of The Isles – Medi – [Lapsus]
7) The Inner Sleeves – Rêverie – [Horisontal Mambo]
8) Lauer & Dena – Where's Your Love Gone? (Synthepella Mix) – [[Emotional] Especial]
9) Salamanda – Truffles Sprinkles – [Public Possession]
10) Ajukaja & Ats – Estradin – [Porridge Bullet]
11) Monoconda – Statues – [Kashtan]
12) Darone Sassounian – Prerequisite #2 – [Rocky Hill]
13) New Folder – Somnambula
14) Lord Of The Isles – Lo-Theory – [Lapsus]
15) DUNN – IN THE SHADE – [100 LIMOUSINES]
16) Michael Claus – Coral Tower – [100% Silk]