Podcast: Play in new window | Download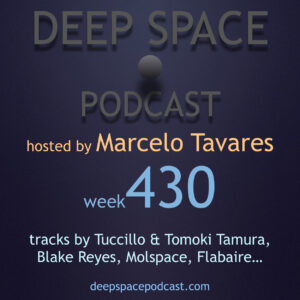 E ae!
Welcome to Deep Space Podcast! Many thanks for listening.
A big shout to the Spatial Listener of the week, for the second time, J. Van Holten! This podcast is only possible because of you all Spatial Listeners!
If you also wanna to have your name mentioned here in a future episode plus receive many benefits, please consider to support my show, check it out here:
https://deepspacepodcast.com/subscribe
Enjoy the week430!
Playlist:
Artist – Track Name – [Label]
1) Tuccillo & Tomoki Tamura – Joint Soft (Iapanease Napolitan Edit) – [Holic Trax]
2) Blake Reyes – Love Lies – [Axis]
3) Molspace – In The Footstep Of Gabor Szabo – [MixCult]
4) Flabaire – The Bee's Boo – [Pont Neuf]
5) Matt Star – Dudiep – [Ausblick]
6) Cosmonection & Soren Lyann – Bulles – [Pont Neuf]
7) Jeronimo Watson – Feed That Plant – [MixCult]
8) AGP – Ancestors And The Lord On High – [Ausblick]
9) LDLDN – Machine Code (Galaxy Brain DAT Remix) – [Natural Frequency]
10) Mc4len – Controlling Tides
11) Anoesis – Space Watch
12) Anthony Teasdale – Deep In NW5 (2022 edit)
13) Kukhanyakwensimi – Ihhashi Elibomvu