Podcast: Play in new window | Download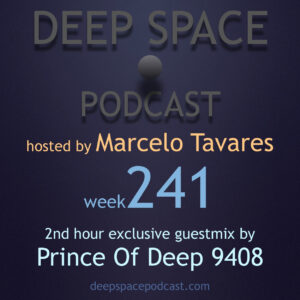 E ae!
Welcome to Deep Space Podcast! Many thanks for listening.

Deep Space Podcast • 7 years • 241 episodes!
2 hours of good music in the today's show featuring guestmix by Prince of Deep 9408 (Johannesburg, South Africa) founder of the group Genesis Of House.

Please check more about Prince of Deep 9408 in the link below:
www.facebook.com/PrinceOfDeep9408sa

Enjoy the week241!
Playlist:
Artist – Track Name – [Label]

1st hour mixed by Marcelo Tavares
1) Zak Damundo – Soul – [Cold Busted]
2) Gianni Brezzo – 12 WORDS – [Kompakt]
3) Mark de Clive-Lowe – Evergreen – [Mashibeats]
4) Mr. YT – Pacific Jazz – [Apollo]
5) Keiichi Tanaka – Tenzin Song – [Mental Groove]
6) Mellow Man – Sōshoku Paiku
7) Marvin Horsch – Negobebo#2 – [FILM]
8) MSSS – It's My Cousins – [Cambrian Line]
9) Alexander Saykov – Sky Whale (Echo Delta Remix) – [Cold Tear]
10) Batu & Lurka – Kneqq – [Fringe White]

2nd hour exclusive guestmix by Prince Of Deep 9408 (Johannesburg, South Africa)
1) Admin & Thrilogy – You Used To Love Me – [Fate And Fiction]
2) Real D – People Playin' – [Waxtefacts]
3) Tell – Get Out Of (My Mind) – [Wax Classics]
4) The Nathaniel X Project – Free Yourself – Music Station 1994 – [Juno]
5) Phonk D Le Rubrique – Flying Circus – [Foot Job]
6) John Barera – Get Real – [Supply]
7) LK – Jaded Rhythm – [Shall Not Fade]
8) Julius Steinhoff & Moomin – Blackest Forest Ever [Closer]
9) AFAMoo – New York, New York [Pogo House]
10) Jasper Street Co. – Reach (Kaytronik No Boundaries Dub) – [Bassement Bag]
11) Flight Facilities – Clair De Lune feat. Christine Hoberg (Prince Of Deep 9408 Remix)