Podcast: Play in new window | Download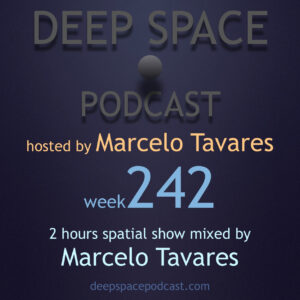 E ae!
Welcome to Deep Space Podcast! Many thanks for listening.
Deep Space Podcast is 7 years old this week! Happy birthday!
To celebrate, I've recorded a 2 hours spatial mix and you can watch the video recording on Youtube: youtu.be/OQ0YD_vYnBk
Enjoy the week242!
Playlist:
Artist – Track Name – [Label]
2 hours special show mixed by Marcelo Tavares
1) Sven Weisemann – Cascading Lights – [Delsin]
2) G String – Crystal Daze – [Pinkman Broken Dreams]
3) Dawn Again & Rothmans – Woman For A Day (Clandestino 'Desert Trance' Remix) – [Rothmans]
4) Duplex – Molecular – [DPX]
5) Kat La Kat – Strange Signals – [Swedish Brandy Productions]
6) Cozmic Jazzz Futurist feat. Mike T – Puzzles (Light Up The Sky) – [Moods & Grooves]
7) Ron Trent – Omi Tutu – [Electric Blue]
8) Roman Flügel – Work & TV – [Phonica]
9) Tell – A Tipping Whispering – [Banoffee Pies]
10) Beat Pharmacy – Elastic Dub – [Fifth Interval]
11) Alessandro Crimi – Fractal Clouds – [Fifth Interval]
12) Fred P – 6AM – [Secretsundaze]
13) Henning Baer – Spiritual Quest – [Nonplus]
14) Jori Hulkkonen – If I Was Your Doctor – [My Favorite Robot]
15) Edward – Etern – [Die Orakel]
16) Group Zero – The Pummelling Repetition Inside – [Touch Sensitive]
17) Mark Barrott – Emile – [International Feel]
18) Giraffe – 09 – [Meakusma]
19) AfroMove – Take Me Back (Remastered) – [AfroMove]
20) Themetique – Sunrise Jam – [Sanelow Label]
21) Jesse Futerman – Blinding Lights – [Omena]
22) Tobetsa Lamola – Night Fall – [Ohyea Musiq]