Podcast: Play in new window | Download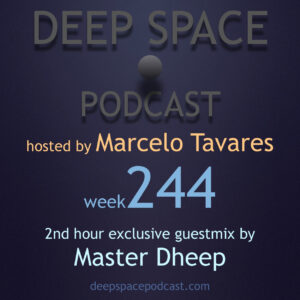 E ae!
Welcome to Deep Space Podcast! Many thanks for listening.
2nd hour of the today's show featuring exclusive guestmix by Master Dheep (Johannesburg, South Africa).
Please check more detailed information about Master Dheep in the links below:
https://www.facebook.com/mbusor7
https://twitter.com/MasterDheep
Moreover, check it out this video by The Newcomer from his new album "EARTH MOTIVATION" at Opal Tapes that you'll certainly here in the podcast. Track's called 'Fugue':
https://www.youtube.com/watch?v=c4n5o1F_flU&t=
Enjoy the week244!
Playlist:
Artist – Track Name – [Label]
1st hour mixed by Marcelo Tavares
1) Hear & Now – Hirundo – [Claremont 56]
2) Chasindub – She Is – [Phonogramme]
3) Ancient Deep Feat. Carlos Mena – Early Werk – [Deeper Shades]
4) Loftsoul & Miruga feat. Aissata Kouyate – Tanmar (Original Mix) – [R2]
5) DJ Central – Six Moves (Only Mix) – [Help]
6) Homepark – 16 Sessions – [Fina]
7) Tracey – Earthrise – [Voyage Direct]
8) Atjazz – Track 5 (Mix 1) – [Atjazz Record Company]
9) Human Robot – Solaris (Original Mix) – [Paunchy Cat]
10) Well Being – The Last Place – [GODMODE]
2nd hour exclusive guestmix by Master Dhepp (Johannesburg , South Africa)
1) Collen Cohen – Paddas – [Smooth Agent Records Africa]
2) Pablo Bolivia & Sensual Physics – Convex (Original Mix) – [Seven Villas]
3) Chymera – Fathoms (Ensemble Dive Deep Remix ft. BeatuniQue On Hang) – [Seamless]
4) Olaf Stuut – Pareidolia – [Atomnation]
5) Tilman – Whip Me Up (CMAT Remix) – [Tenderpark 015]
6) Bonobo Feat. Innov Gnawa – Bambro Koyo Ganda – [Ninja Tune]
7) Bonobo – 7th Sevens – [Ninja Tune]
8) Unruly Music – Underground – [Just Sounds]
9) Rampa – Trust – [Keinemusik]
10) Frankey & Sandrino – Hydrae – [KOMPAKT]
11) Andrea Colina – Anger Whispered – [THANQ]
12) OFlynn – Oberyn – [Blip Discs]