Podcast: Play in new window | Download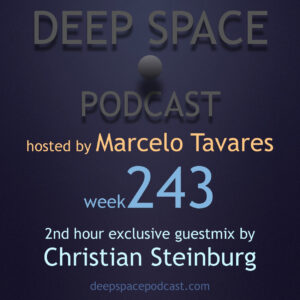 E ae!
Welcome to Deep Space Podcast! Many thanks for listening.
Deep Space Podcast – 7 years! Another 2 hours show featuring guestmix by Christian Steinburg for the 4th time. Thanks bro, much love!
Please check more detailed information about Christian Steinburg in the links below:
https://soundcloud.com/rocco-castiglione
https://www.facebook.com/undergroundmusicforever
https://www.facebook.com/rocco.castiglione.3
Enjoy the week243!
Playlist:
Artist – Track Name – [Label]
1st hour mixed by Marcelo Tavares
1) Jazzuelle Feat. Matthias Vogt – Narnia – [Get Physical Music]
2) Physical Therapy – More Sugar – [SOBO]
3) Fred Buddah – The Golden Age – [Super Black Tapes]
4) The Soul Architect – Inner Peace (Original Mix) – [Abstract Theory]
5) Chord Memory Band – Third Eye – [Beats Of No Nation]
6) Elektroluchs – Zeugwart (LoYoTo Remix) – [Young Society Neon Edition]
7) Anthony Nicholson – Chill Out Girls – [Miquifaye Music]
8) Juan Lopez – House Music (Original Mix) – [Deep Clicks]
9) Rene Breitbarth – Woofer – [Deep Data]
10) Inspector Macbet – Last Time – [EDM Underground]
11) Ishi Vu – Lucid Dream – [Studio Barnhus]
12) ДОЩ – Аян
2nd hour exclusive guestmix by Christian Steinburg (Nuremberg, Germany)
1) Neozaïre – Blue Bell Treasure (Original Mix) – [Fauxpas Musik]
2) Sei A – Holding (Original Mix) – [Aus Music]
3) Atjazz – Track 3 (Mix 1) (Original Mix) – [Atjazz Record Company]
4) Elias Marina – Ride That Ssh… (Original Mix) – [Voyage Direct]
5) DJ Aakmael – Deep Side (Original Mix) – [Axe On Wax]
6) Butch & C. Vogt – The Infamous (Palms Trax Smudge Mix) – [Rebirth]
7) Red Rack'em feat. Misumami – Nothing Without You – [NSYDE]
8) Pavel Milyakov – Styx (Original Mix) – [Gost Zvuk]
9) Lord RAJA – O.K. (Original Mix) – [Ghostly International]
10) Benjamin Milz – Electric Current (Original Mix) – [Live At Robert Johnson]
11) John Tejada & Tin Man – Bim (Original Mix) – [Acid Test]
12) Shea – Aspartame (Original Mix) – [Echovolt]