Podcast: Play in new window | Download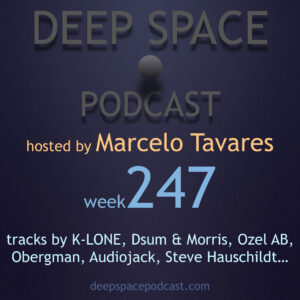 E ae!
Welcome to Deep Space Podcast! Many thanks for listening.
Is out today my exclusive guestmix for LOVE IS IN THE HOUSE PODCAST from South Africa, hosted by KGOSI MOTLHABI & CAS-MIZ. Thanks for inviting me, guys!
Playlist and download in the LIITH Facebook page:
https://web.facebook.com/liithrs/photos/a.185648271808792.1073741827.185643421809277/445781135795503/?type=3&_rdc=1&_rdr
You can also watch the video recording from this exclusive guestmix in the link below:
https://youtu.be/BtD3t82VjLc
Enjoy the week247!
Playlist:
Artist – Track Name – [Label]
1) K-LONE – Woniso – [Winsdom Teeth]
2) Dsum & Morris – Solar – [Monofónicos]
3) Ozel AB – Orbit 416 – [Workshop]
4) Obergman – Synchronicity – [Brokntoys]
5) Audiojack – Spirit (Fort Romeau Remix) – [Last Night On Earth]
6) Steve Hauschildt – Same River Twice – [kranky]
7) SMBD – Message 045 – [Lo]
8) Daniel Brandt – Kale Me – [Erased Tapes]
9) Tommaso Cappellato feat. Victor Lewis – Team Ball – [Mashibeats]
10) Waajeed – Better Late Than Never – [Dirt Tech Reck]