Podcast: Play in new window | Download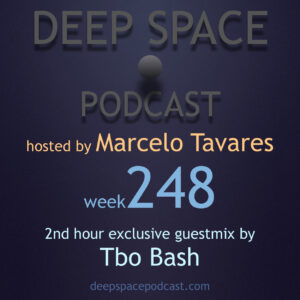 E ae!
Welcome to Deep Space Podcast! Many thanks for listening.
You gonna listen in the today's 2nd hour an exclusive guestmix by Tbo Bash from Brits, South Africa!
Please check more detailed information about Tbo Bash in the links below:
https://www.twitter.com/tbobashdj
https://www.facebook.com/djtbobash
Enjoy the week248!
Playlist:
Artist – Track Name – [Label]
1st hour mixed by Marcelo Tavares
1) Osunlade – Momma's Groove (Sphiwe Cas-Miz Dark Mix)
2) t. Siza – Astro Astro (Original Mix) – [Super Black Tapes]
3) Or:la – Masca Express – [Deep Sea Frequency]
4) SofaTalk – Truth Theme – [YAM]
5) Z Lovecraft – Oceanic – [YAM]
6) Nu Era – Octahedron – [Omniverse]
7) Tatham, Mensah, Lord & Ranks – Simmering – [2000Black]
8) DJ Thes-Man & Tobetsa Lamola – Shamisen (Original Mix) – [OHYEA Muziq]
9) Ian Fink – Middle Birth – [Discovery]
10) Jad & The – Theatrical Trailer (Original Mix) – [Beats Of No Nation]
11) Alton Miller – For You (Original Mix) – [MotorCity Wine]
2nd hour exclusive guestmix by Tbo Bash (Brits, South Africa)
1) Bucie – No Fade (Charles Webster Remix) – [Subsensual]
2) Aki Bergen Feat. Carmen Sherry – Into My Soul (Rocco Deep Mix) – [Papa]
3) Groovenauts – How We Dub (Original Mix) – [Contact]
4) MidiDropMusic – A Better Taste – [Sophisticate]
5) Salvatore Freda & Volta – Bombolone – [Liebe-Detail]
6) Manuel Tur & Dplay – Deviate (Original Mix) – [Drumpoet Community]
7) MidiDropMusic – The Realm – [Plastic City]
8) Rocco – Memories Revisited – [House Afrika]
9) Salvatore Freda – Luv Can't Hurt – [Freerange]
10) Voom Voom – Sao Verought (Marcus Worgull Mix) – [G-Stone]