Podcast: Play in new window | Download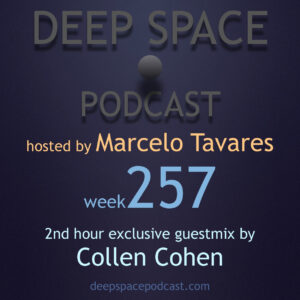 E ae!
Welcome to Deep Space Podcast! Many thanks for listening.
week257 is out now featuring wonderful guestmix in the 2nd hour by Collen Cohen! Full of his amazing tracks!
Please check more detailed information about Collen Cohen in the link below:
https://www.facebook.com/CollenCohenDenilen
And, a big shout out to Chocky, Happy Birthday bro!
Enjoy the week257!
Playlist:
Artist – Track Name – [Label]
1st hour mixed by Marcelo Tavares
1) Yunnansound – Project Forgiven 1
2) Muskidd – Dusk Till Dawn (Original Mix) – [Just Move]
3) Chocky – Self Knowledge – [Dessous]
4) Aisling Iris – Hey Lover (Instrumental) – [Makin' Moves]
5) Waajeed – Winstons Midnight Disco – [Dirt Tech Reck]
6) Fred Buddah – Sea of Truth – [Super Black Tapes]
7) Grant – Dazu – [Grant]
8) Gene Tellem – Who Says No – [SOBO]
9) Anthony Georges Patrice – Nujan – [Lossless]
10) Reelsoul – Sweetness – [Reelsoul Musik]
11) IQ Musique – Welcome 2 Africa – [Afrocubania]
12) Awanto 3 Feat. Darling – Azrael – [Dekmantel]
13) Nick Wisdom – Feelin' Alright (Instrumental) – [Bastard Jazz]
2nd hour exclusive guestmix by Collen Cohen
1) Collen Cohen – Jericho
2) Collen Cohen & Denilen – Cosmos (Outer Space)
3) Collen Cohen – Precision
4) Denilen Feat. Ray – Mine
5) Denilen – Outh
6) Collen Cohen – Bloodline
7) Collen Cohen – Pharaohz (Apollo Mix)
8) Denilen Feat. Ray – Can You Relate
9) Collen Cohen – Flux
10) Denilen – Africana
11) Denilen – Me (Outro Version)
12) Denilen – Oura