Podcast: Play in new window | Download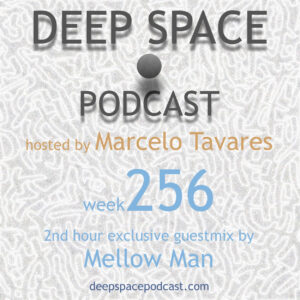 E ae!
Welcome to Deep Space Podcast! Many thanks for listening.
Today you gonna be amazed with a guestmix by Mellow Man (Krasnoyarsk, Russia). A 2nd hour full of excellent Ambient & Experimental tunes provided by the mysterious Russian producer and music selector.
Mellow Man also designed the artwork for this episode! Many thanks MM!
Please check more detailed information about Mellow Man in the link below:
https://soundcloud.com/l000m
Enjoy the week256!
Playlist:
Artist – Track Name – [Label]
1st hour mixed by Marcelo Tavares
1) KiNK – Soar – [Running Back]
2) Creep Woland – 0141-S.F.S.G – [Astral Black]
3) Buttechno – Poleva – [The Trilogy Tapes]
4) Greita – Plastic Salon – [Disques Flegon]
5) Crackazat – Midnight In Sector Seven – [Local Talk]
6) Muir – Patience – [made of CONCRETE]
7) One Day – B1 – [Office]
8) Midland – Tail Ender – [AUS]
9) O$VMV$M – Oasis Weir – [Idle Hands]
10) Vester Koza – OT_R~cord [4.10] – [Houndstooth]
11) Hainbach – High and Low – [Opal Tapes]
12) Kuedo – Slow Knife – [Planet Mu]
13) Sentomea – Reminiscent – [Delsin]
2nd hour exclusive guestmix by Mellow Man (Krasnoyarsk, Russia)
1) Tiziano Popoli & Marco Dalpane – Moving Objects Slow Dance – [Yaki]
2) Johannes Schmoelling – The Big Nail – [Polydor]
3) Eblen Macari, J.L. Almeida – Clarion – [Dakta]
4) Attilio Casati – Etherea – [Les Folies Art]
5) Giuseppe Leonardi – Unsinn – [Second Circle]
6) Masumi Hara – Kimi No Yume – [Wax]
7) Tiziano Popoli & Marco Dalpane – Scorie – [Yaki]
8) Martin Kornberger & Volker Kuhn – Violet Jewels – [Syntape]
9) Thomas Almqvist – Dream Games – [Breakthru']
10) Johannes Schmoelling – The Lawnmower – [Theta]
11) Vangelis – Tears In Rain – [Warner/Chappell Music, Inc]
12) Finis Africae – Luna – [Grabaciones Accidentales]
13) Haruomi Hosono – Korendor – [Epic]