Podcast: Play in new window | Download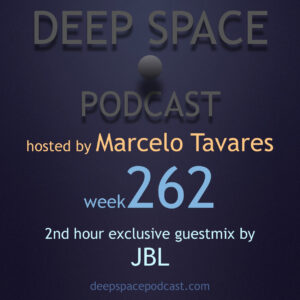 E ae!
Welcome to Deep Space Podcast! Many thanks for listening.
I've GREAT NEWS!!! I'll land in South Africa in 16th staying until April 5th! I still have available dates so don't sleep! Contact me via Facebook Messenger or marcelo@deepspacepodcast.com and reserve your date.
More infos about the gigs and other great stuff from my first South Africa Tour soon!
Today you gonna listen an exclusive guestmix by JBL (South Africa) in the 2nd hour.
Check the links below from JBL:
https://www.podomatic.com/podcasts/ancientdeepsignals
https://www.facebook.com/JBLancient
Enjoy the week262!
Playlist:
Artist – Track Name – [Label]
1st hour mixed by Marcelo Tavares
1) Bass Clef – Song From Benedenland – [Opal Tapes]
2) Occult – Bay – [Substruct]
3) Sanaamuziki – What Could've Been (Afro-Tech mix) – [Kanzen]
4) Tony S – No More (Original Mix) – [Fade To Funk]
5) t. Siza – Electric Luv – [Super Black Tapes]
6) Michael Lovatt – Mata (Original Mix) – [Midnight Social]
7) Red Rack'Em – April Fool – [Bergerac]
8) SBOT – Yassam – [Jheri Tracks]
9) Klaus Benedek – Consequences – [forTunea]
10) T. Ruggieri – Don't Touch Me (Matthias Vogt Retouch) – [Oh! Records Stockholm]
11) Scope – Concerns (Audio Soul Project Remix) – [Seven Music]
2nd hour exclusive guestmix by JBL (South Africa)
1) Dandara – Primera Primavera (Original Mix) – [Nomade]
2) Grandmoms Hands – Mantra (Original Mix) – [In Dushe]
3) Trikk – Modo Ritmico (Original Mix) – [Optimo Trax]
4) Joakim – Boipeba (Dub Mix) – [March Music]
5) DJ Heure – Pensively (Original Mix) – [All My Thoughts]
6) Jazzuelle – The Fibonacci Sequence (Original Mix) – [Get Physical Music]
7) Sam Matters – Your Mind (Original Mix) – [Freerange]
8) Dafro – Not Alive (Original Mix) – [Chymamusique]
9) Melohmn & Javi Bora Feat. Shyam P – Rise up (Myazisto's Dub Mix) – [Samples]
10) Lilac Jeans, Sio & Ta-Ice – This love (Ta-Ice Remix) – [Lilac Jeans]
11) Sio & AbysSoul – Words (David Montoya Remix) – [Open Bar Music]
12) The Alchemist – The Spirit of God, Joyful Noise – [Decon]