Podcast: Play in new window | Download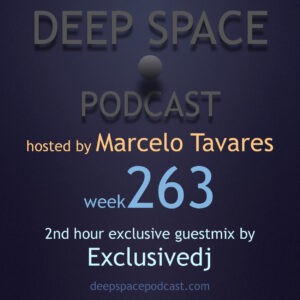 E ae!
Welcome to Deep Space Podcast! Many thanks for listening.
About a month to arrive in South Africa for my first tour! Another good news about this tour is that my friend, wonderful Painter, Solomon Bokaba is painting super amazing exclusive limited t-shirts! I'll keep you all updated about the gigs and the tees asap.
The today's guestmix is served by Exclusivedj (Johannesburg, South Africa).
Please check more detailed information about Exclusivedj in the links below:
https://www.facebook.com/kgotso.justice.16
https://www.podomatic.com/podcasts/exclusivedjmixproject
Enjoy the week263!
Playlist:
Artist – Track Name – [Label]
1st hour mixed by Marcelo Tavares
1) Helmut Ebritsch – Dolores (Nadja Lind Lucid Moment Remix) – [Lucidflow]
2) Labeuz – Beaches (Original Mix) – [Ondule]
3) Seb Wildblood – Jazz, Vol. 1 (Christopher Rau Remix) – [Church]
4) Ahautzab – Live & Love – [SCTY]
5) Occult – Xenophon – [Cold Tear]
6) Eddieboi – Black Woman (Toto Chiavetta Instrumental Remix) – [MoBlack]
7) Atjazz – Track 9 (Mix 1) – [Atjazz Record Company]
8) Jenifa Mayanja – Rift – [Bass Cadet]
9) Anthony Nicholson – Suckapunch – [Clairaudience]
10) DJ Spinna – TB Or Not TB – [Local Talk]
11) Session Victim – Matching Half (Byron The Aquarius Remix) – [Delusions Of Grandeur]
2nd hour exclusive guestmix by Exclusivedj (Johannesburg, South Africa)
1) Slutty J – Is There A World
2) Son Of Sound – New York Iz All I Know (Aroop Roy Remix) – [Delusions Of Grandeur]
3) The Layabouts Feat. KOF – Open Up (The Journey Men Remix) – [Foliage]
4) Cassy & Demuir – Please Me (Fred P Fixation Mix) – [Kwench]
5) Luvless – Misunderstood – [LÜÜD Discs]
6) Maximiliano Haas – Mind Matter (Original Mix) – [InOrbita]
7) Lucas Keizer – Flood Waters – [Large Music]
8) Redde Rationem – Springy Motion (Original Mix) – [Nidra Music]
9) Ross Couch – Never Giving You My Love – [Body Rhythm]
10) Federico Guglielmi – Deep Therapy (Original Mix) – [Kolour]
11) DeltA A+ – Safe Dreamer (Original Deep House Mix) – [Disco Balls]
12) Genetic Funk Feat. Mr.V – The Believe (Atjazz Mix) – [Grounded]