Podcast: Play in new window | Download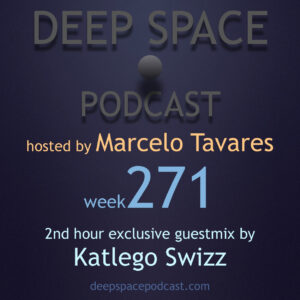 E ae!
Welcome to Deep Space Podcast! Thanks for listening.
2 hours show featuring exclusive guestmix by Katlego Swizz (Surreal Sounds Music, South Africa). Dope mix, brotha!!! Many thanks!
Please check more detailed information about Katlego Swizz in the links below:
https://surrealsoundsza.bandcamp.com
https://www.facebook.com/KatlegoSwizzDJ
Enjoy the week271!
Playlist:
Artist – Track Name – [Label]
1st hour mixed by Marcelo Tavares
1) Nutty Nys Feat. Auni Saxton – Natural – [Streetlight]
2) Anthony Nicholson & Jaidene Veda – We Work Best (Miquifaye Instrumental Pass) – [Circular Motion]
3) Vince Watson – Another Rendezvous (Original Mix) – [Yoruba]
4) Buder Prince & Malaisha Feat. DK – I'm Not Civilized (Cannon Le Rod's Essential Mix) – [Deep Obsession]
5) K'Zela & Stylish DJ Feat. Aries Aquarius – Love And Passion (Da Capo's Touch) – [House Africa]
6) Deeper Phil – Epeng – [DNH]
7) Jan Ketel – Around Tha Corner – [Tieffrequent]
8) Simon Hinter – All In (Original Mix) – [Just Move]
9) Seb Wildblood – Wet Plants (Telephones Remix) – [Omena]
10) Peggy Gou – Travelling Without Arriving – [Phonica White]
2nd hour exclusive guestmix by Katlego Swiss (South Africa)
1) Marathon Men feat. Angela Hernandez – In Paradise
2) Hoj & Power – Leap Day – [All Day I Dream]
3) Rocco – Stormy – [Freerange]
4) Volley Sentir – Vdol Po Recheck
5) Martin Aquino – Lucid – [Bondage Music]
6) Matias Chilano – Micron – [Movement]
7) Sebastian Busto – Amniotic – [The Soundgarden]
8) Roy Rosenfeld – When We Were innocent – [All Day I Dream]
9) Pat Lezizmo & Frederick Alonso – Tablao (Pablo Bolivar Remix) – [Something Different]
10) Fish Go Deep – E.S.L – [Innervisions]
11) Kwamey & Franky Boisy – Everybody Wants To Rule The World – [Chez Music]
12) Matthew Herbert – The Audience – [Accidental]