Podcast: Play in new window | Download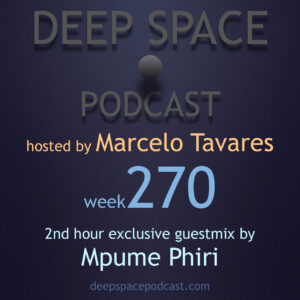 E ae!
Welcome to Deep Space Podcast! Many thanks for listening.
One more 2 hours special show both hours recorded live in one of the gigs from my South Africa Tour 2018, the Deepteckishi presents Moonflower at Disoufeng Pub, in Soweto, supported by Maze MrPain in last March 20th, 2018.
1st hour by myself, Marcelo Tavares. 2nd hour special guestmix by Mpume Phiri!
Enjoy the week270!
Playlist:
Artist – Track Name – [Label]
1st mixed by Marcelo Tavares
No playlist, recorded live in the last March 20th, 2018 at Disoufeng Pub (Soweto) in the Deepteckishi presents Moonflower.
2nd hour mixed by Mpume Phiri
No playlist, recorded live in the last March 20th, 2018 at Disoufeng Pub (Soweto) in the Deepteckishi presents Moonflower