Podcast: Play in new window | Download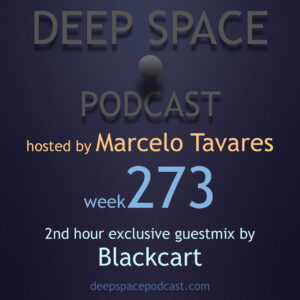 E ae!
Welcome to Deep Space Podcast! May thanks for listening.
We gonna listen today, an amazing and exclusive guestmix by BLACKCART (David Thapelo, Time4House Podcast, Pretoria/South Africa).
Blackcart is a Pretoria based DJ who hails from Lebowakgomo (Limpopo) and loves playing Deep house, Minimal and Left Field House Music . He started spinning 11 years ago in Lebowakgomo, then Sunnyside Pretoria, spends most of his free time documenting stories for his podcast (Time4House) established in 2012. His upbringing was musically-influenced by his Father who introduced him to music on cassette and Vinyl and his passion was inspired by a veteran Radio DJ Glen Lewis, Iggy Smallz and international producer Sven Weisemann. He started collecting his own music mostly via cassette back in the year 1998. Having played at most affluent night clubs like House 22, YDE Pub, R55 Chillout, Basement Lounge on Road 82, Viewpoint Shisanyama (Tembisa), Pat's Pub (Rustenburg), RockerFella (Soweto) amongst others, alongside, Vinny Da Vinci, Trev the Japanese, Chymamusique, Piday, Malankane, Sabz, Thabo Phalatse, Bubbles, Julian Gomez, Mlu (Metro FM), Kanunu (House Afrika) and playing at special events mostly hosted by himself via Time4House and promoting his own shows, BlackCart had a lot of time to develop his sound. It's more about dropping knowledge on his tapes and the love for quality music than it is to just make people dance… Playing those mind provoking Deep House tracks that will have you nodding your head without even realizing it, Regardless of its release date. Never be surprised when you find yourself tapping your feet.
Blackcart also kinldy recorded the mix on video, so you can watch the whole mix plus 12min more of good music on his Youtube channel:
https://youtu.be/GSX8N4sZL6I
For more detailed information about Blackcart, please check in the links below:
https://time4house.podomatic.com
https://www.facebook.com/therealblackcart
https://www.facebook.com/Time4House
Enjoy the week273!
Playlist:
Artist – Track Name – [Label]
1st hour mixed by Marcelo Tavares
1) AfroMove & Glenn Arkton – Cosmic Wave – [AfroMove]
2) Vandal M – Figures – [Surreal Sounds Music]
3) Loftsoul x Miruga feat. Hideki Ikeuchi – Roy – [R2]
4) Mr Zee Morez – Cruising Through Jazz
5) 2DeepSoul – Contour Lines – [Inner Shift]
6) Khotin – Aloe Drink (Force of Nature Remix) – [Public Release]
7) Leonid Nevermind – Poetry Of The Heart – [Bivouac Sound]
8) Kuzma Palkin – 1012-sad-doom
9) Charles Webster – Your Life (Presence Dub) – [Peacefrog]
2nd housr exclusive guestmix by Blackcart (Time4House, Pretoria, South Africa)
Sorry… No playlist.