Podcast: Play in new window | Download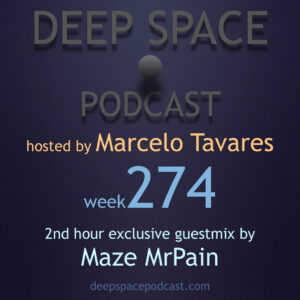 E ae!
Welcome to Deep Space Podcast! Many thanks for listening.
week274 is stunning! 2nd hour featuring exclusive guestmix by Maze MrPain (Johannesburg, South Africa).
Now you can be a Spacial Listener contributing monthly or annually to help to keep my musical journey and this way the show can even be free to all the listeners.
Choose the plan that suits you: Monthly Spacial Listeners and Annually Spacial Listeners, with rewards for all the plans.
Please check it out the link for details:
https://deepspacepodcast.com/donate
Enjoy the week274!
Playlist:
Artist – Track Name – [Label]
1st hour mixed by Marcelo Tavares
1) P.H.O.R.K. – Get That One Note Jam – [Opal Tapes]
2) Cleveland – Tusk – [ESP Institute]
3) Ishmael – She Moves Me So – [Fate and Fiction]
4) Zed Bias feat. Wookie & Atjazz – A.D.L. – [Biasonic]
5) Urulu – Body Drum – [Voyage]
6) Detroit Swindle feat. Lorenz Rhode – High Life – [Heist]
7) Adham Zahran – With Every Passing (Live Mix) – [Fade To Funk]
8) James Dole – Ex – [Bergerac]
9) DJ Chocolatebar feat. Auni Saxton – Brand New Healing – [Streetlight]
2nd hour exclusive guestmix by Maze MrPain
1) Aera – Moon Palace (Intro) – [Innervisions]
2) Floetry – Sunshine – [DreamWorks]
3) Aera – Moon Palace – [Innervisions]
4) ?
5) Mark Alow – Golden Tiger – [Sol Selectas]
6) ?
7) Mark Alow – Little Helper 207-3 – [Little Helper]
8) ?
9) ?
10) Mark Alow – Immersion – [Baile Musik]
11) Modd – Fascinate – [Akbal Music]
12) ?
13) Modd – Mensarda – [Crossfrontier Audio]
14) Salif Keita's – Moussoulou (Remixed by Charles Webster) – [Universal Music Jazz]