Podcast: Play in new window | Download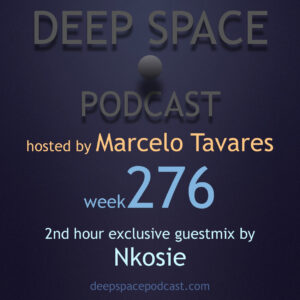 E ae!
Welcome to Deep Space Podcast! Many thanks for listening.
You gonna listen today an exclusive guestmix by my lil south african brother DJ Nkosie in the 2nd hour! He is from Soweto, hosts a very popular gig called Follow The Boogie and also is part of We Are Rhythm DJs agency that I'm. Pay attention for the scond hour, it's stunning!
Enjoy the week276!
Playlist:
Artist – Track Name – [Label]
1st hour mixed by Marcelo Tavares
1) Intergalactic Otaku – Ginzake
2) Versalife – Distress Calls From Pasadena (Original Mix) – [Transcendent]
3) Chocky – Chakattack (Broken Mix) – [SHHHHHHH.CO]
4) Jing – A Special You – [Acid Camp]
5) Dark Sky – Finding Home
6) Pépé Bradock – Deep Burnt – [KIF Music]
7) Solune – Rhythm School – [Secretsundaze]
8) Route 8 – Come Home – [Lobster Theremin]
9) Esteban Adame – Momma Knows – [Mister Saturday Night]
10) (snnipet) Vicmari – Think House Music – [DeepStitched]
2nd hour exclusive guestmix by DJ Nkosie (South Africa)
1) Doyeq – One Hundred Meters Outside – [Echo Garden]
2) El_Choop – Narrow Pulse – [Etui]
3) BDTom – Electrosong – [Limitation Music]
4) Forteba – On Soul – [Plastic City]
5) Stereociti – Klass – [Mojuba]
6) Specdub – New York (Bdtom Remix) – [Plastic City]
7) The Unhottest – Hairs Of The Night (Loyoto Remix) – [Isendit]
8) Specdub & BDTom – Queens (Forteba Remix) – [Seven Villas]
9) Ursula Rucker & Jaidene Veda – Humble Pie (Nick Holder Remix) – [DNH]
10) Jimpster – Becoming Cyclonic – [Freerange]