Podcast: Play in new window | Download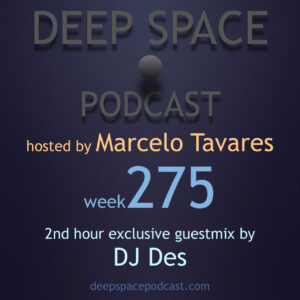 E ae!
Welcome to Deep Space Podcast! Thanks for listening.
Today, June 15th is the birthday of my wife, Sandra!
Happy birthday, my love! I love you so much <3
In the today's 2nd hour show you gonna listen an exclusive guestmix by DJ Des (Ral Records, Johannesburg, South Africa).
Check more info about DJ Des in the links below:
https://www.facebook.com/Climbered
https://www.podomatic.com/podcasts/ralrecords
Enjoy the week275!
Playlist:
Artist – Track Name – [Label]
1st hour mixed by Marcelo Tavares
1) Ishmael – She Moves Me So – [Fate & Fiction]
2) Jushouse – Midnight Blues (Original Mix) – [Supernature]
3) Detroit Swindle feat. Lorenz Rhode – High Life – [Heist]
4) JayDee SA – Brotherhood – [King Six]
5) Dsum – Humble – [Monofónicos]
6) Waterpark – Speedline Connect – [Waterpark]
7) Jodadj – The East Side of Detroit – [Purveyor Underground]
8) Coltre – Parque Lage (SofaTalk Remix) – [unclear]
9) K15 – Be Glad You Create Anything – [Wot Not Music]
10) Cool Affair feat. Loyiso – Shakedown – [Cool Affair]
2nd hour exclusive guestmix by DJ Des (Ral Records, Johannesburg, South Africa)
1) Mousse T. & Lovebirds – Do Anything (Original Mix) – [Papa]
2) Armonica Feat. Toshi – Ngeke (andhim Remix) – [MoBlack]
3) Deep Space Orchestra – Louisville Slugger (Original Mix) – [Home Tapping Is Killing Music]
4) Yves Murasca – Happy (Karol XVII & MB Valence Loco Remix) – [Milk & Sugar]
5) Argy feat. Bajka – Upon Ourselves (Osunlade Stripped Mix) – [Ibadan]
6) M.ono & Luvless – Whopa (Original Mix) – [Dirt Crew]
7) Mike Steva Feat. Georg Levin – Moment In Time (Craig Smith Remix) – [Yoruba]
8) Alex Castaneda – We All Got Drums (Original Mix) – [Something Different Again]
9) Pablo Fierro – Contrabeat (Original Mix) – [i!]
10) Gershon Jackson Feat. Sio Blackwidow – How Did We Get Here (Mike Dunn White Noise Mix) – [Omni Music Solutions]
11) Moses Cool – Heaven (Original Mix) – [Ral]