Podcast: Play in new window | Download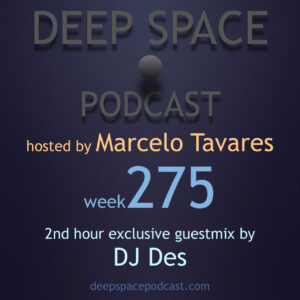 E ae!
Welcome to Deep Space Podcast! Many thanks for listening.
Today, June 15th is the birthday of my wife, Sandra!
Happy birthday, my love! I love you so much <3
In the today's show you gonna listen an exclusive guestmix by DJ DES (Ral Records, Johannesburg, South Africa) on the 2nd hour.
Please check more detailed information about DJ Des in the links below:
https://www.facebook.com/Climbered
https://www.podomatic.com/podcasts/ralrecords
Enjoy the week275!
Playlist:
Artist – Track Name – [Label]
1st hour mixed by Marcelo Tavares
1) Ishmael – She Moves Me So – [Fate & Fiction]
2) Jushouse – Midnight Blues (Original Mix) – [Supernature]
3) Detroit Swindle feat. Lorenz Rhode – High Life – [Heist]
4) JayDee SA – Brotherhood – [King Six]
5) Dsum – Humble – [Monofónicos]
6) Waterpark – Speedline Connect – [Waterpark]
7) Jodadj – The East Side of Detroit – [Purveyor Underground]
8) Coltre – Parque Lage (SofaTalk Remix) – [unclear]
9) K15 – Be Glad You Create Anything – [Wot Not Music]
10) Cool Affair feat. Loyiso – Shakedown – [Cool Affair]
2nd hour exclusive guestmix by DJ Des (Ral Records, Johannesburg, South Africa)
1) Mousse T. & Lovebirds – Do Anything (Original Mix) – [Papa]
2) Armonica Feat. Toshi – Ngeke (andhim Remix) – [MoBlack]
3) Deep Space Orchestra – Louisville Slugger (Original Mix) – [Home Tapping Is Killing Music]
4) Yves Murasca – Happy (Karol XVII & MB Valence Loco Remix) – [Milk & Sugar]
5) Argy feat. Bajka – Upon Ourselves (Osunlade Stripped Mix) – [Ibadan]
6) M.ono & Luvless – Whopa (Original Mix) – [Dirt Crew]
7) Mike Steva Feat. Georg Levin – Moment In Time (Craig Smith Remix) – [Yoruba]
8) Alex Castaneda – We All Got Drums (Original Mix) – [Something Different Again]
9) Pablo Fierro – Contrabeat (Original Mix) – [i!]
10) Gershon Jackson Feat. Sio Blackwidow – How Did We Get Here (Mike Dunn White Noise Mix) – [Omni Music Solutions]
11) Moses Cool – Heaven (Original Mix) – [Ral]