Podcast: Play in new window | Download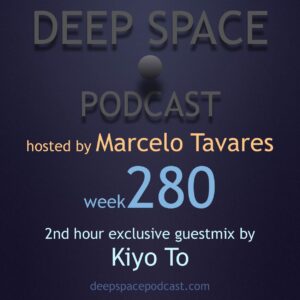 E ae!
Welcome to Deep Space Podcast! Many thanks for listening.
Today we gonna listen an exclusive guestmix by Kiyo To from Kanzen Records in the 2nd hour!
Please check more detailed infos from Kiyo To in the link below:
DJ Profile: www.dhcat.com/artist/dj-kiyo-to
Website: kanzenrecords.com
Twitter: twitter.com/kanzenrecords
Facebook: www.facebook.com/kanzen.records
Instagram: instagram.com/kanzenrecords
Mixcloud: www.mixcloud.com/discover/kiyo-to
Kanzen Radio: kanzenrecords.com/radio
TuneIn: tunein.com/radio/Kanzen-Records-Radio-s199376
Enjoy the week280!
Playlist:
Artist – Track Name – [Label]
1st hour mixed by Marcelo Tavares
1) R.M – Insatiable – [Chikyu-u]
2) CH40 – Friday 1650 – [SUB AMP]
3) Trux – My Row – [Avenue 66]
4) Han Duo – Blurred
5) Squire – Panda Girl – [3000 Grad]
6) H@K – Sarti – [Nite Grooves]
7) Kyle Hall – Teacher Plant – [Wild Oats]
8) DJ Thes_Man – Next To You – [Ohyea Muziq]
9) Tee Mango – Music For Molly
10) Square One – High Rise (Deepchild's Lil Mo' Booty Dub) – [Freerange]
2nd hour exclusive guestmix by Kiyo To (Kanzen Records)
1) Andhim – Amene (Frankey & Sandrino Remix) – [Superfriends]
2) Lynx – Broken Image (Main Ritual Mix) – [Kanzen]
3) Roman Rai – Perceptions Of Delusion (Ian Metty Rework) – [Deepwave]
4) Oscar P – Fela Chant – [Open Bar Music]
5) Kee Lo – Sad Soul (Baffa Jones' Vocal Destruction Dub) – [Kanzen]
6) Kreature – Aya (Original Mix) – [Underground Audio]
7) Piemont – Walk Out (Demarzo Remix) – [Lemon-aid Music]
9) Benny T – Wobbling In My Mind – [Open Bar Music]
10) Juan C. Tokumori – Sun (Original Mix) – [Kanzen]
11) dubspeeka – Theme 1 (Original Mix) – [Last Night On Earth]