Podcast: Play in new window | Download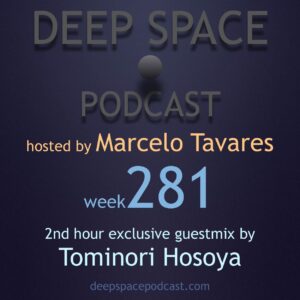 E ae!
Welcome to Deep Space Podcast! Many thanks for listening.

Sorry for the bad quality of my voice. I'm in vacation with my wife Sandra, at the beach, editing this episode from my laptop.

I'm bringing for the today's show a wonderful guestmix by Tominori Hosoya aka Tomi Chair, from Japan, to celebrate the release of his new album, the Double LP called 'Halfway'!
Tominori has been releasing from many vinyls at underground Deep House & Techno labels such deepArtSounds, Mixx Records and Minuendo Recordings, and finally he releases his first album from his own label – TH Pressing.
This 2LP album has the theme "Halfway". Tominori Hosoya made 10 songs with his most special memories and wishes for his precious things, persons or feelings… It means that all the musics were made from the scenery that made him a 35 years old man.
'Halfway' doesn't include just his trademark Deep House / Ambient / Chillout style, but also Broken Beats and Tech House styles. Deep, melodious, soulful and a little melancholy. Vinyl only.

Enjoy the week281!
Playlist:
Artist – Track Name – [Label]
1st hour mixed by Marcelo Tavares
1) Dub Taylor – Lovebird – [Eintakt]
2) PVNV – Default – [Taapion]
3) The Mekanism – Breath (Ryan Crosson 'Ambone' Remix) – [Play It Say It]
4) Athlete Whippet – Hands Only (Max Graef Remix) – [Squareglass]
5) Shlomi Aber – Common Dominator – [Figure]
6) Neue Grafik – Dance to Yemanja – [Rhythm Section International]
7) Wu Kush – Xenomorph (Modified Man Remix) – [Heard and Felt]
8) Nick Holder – Lustful Pleasures (Trinidadian Deep Vocal Mix) – [DNH]
9) Pablo Valentino – My Son's Smile (Original Mix) – [MCDE]
10) Matthias Vogt – World Needs Its Dreamers (World Dub Mix) – [Large Music]
11) Hank Youngman – Like I Did (Intro) – [Nerang]
2nd hour exclusive guestmix by Tominori Hosoya (Japan)
1) Chaos In The CBD – Unsound Mind – [In Dust We Trust]
2) Seb Wildblood – Mmm – [Omena]
3) Hidden Spheres – Upsn Downs – [Distant Hawaii]
4) 2DeepSoul – Clarity – [Inner Shift]
5) Trinidadian Deep – In The Beginning – [D3 Elements]
6) Seb Wildblood feat. Paul Cut – Plants – [Omena]
7) Chaos In The CBD – Zona Del Silencio – [In Dust We Trust]
8) Hidden Spheres – Be A Man – [Distant Hawaii]
9) Tominori Hosoya – We Wish 2 Cherry Trees Bloom Forever (full length version) – [TH Pressing]
10) Ad Bourke & Raiders Of The Lost Arp – Raw (Ron Trent remix) – [Far Out]
11) Patrice Scott – Feels So Good – [Sistrum]
12) Brian Harden – Chicago To Detroit (Brian's Chicago Sur Seine mix) – [D3 Elements]