Podcast: Play in new window | Download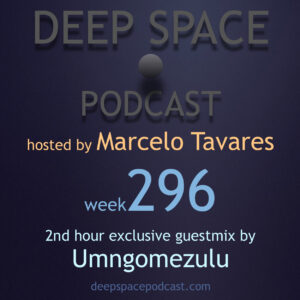 E ae!
Welcome to Deep Space Podcast! Many thanks for listening.

Happy New Year! This is the 1st show of 2019!
We gonna listen today an exclusive guestmix by one of the owners of the best record store in South Africa, the Vinylifestyle Rooftop. UMNGOMEZULU in the mix for the 2nd hour!
I hope you've a nice year with many jobs! HNY!

Enjoy the week296!
Playlist:
Artist – Track Name – [Label]
1st hour mixed by Marcelo Tavares
1) Mark Barrott – Cascades (Francois K Mix) – [IFEEL]
2) Khutšo Chuma – Depth & Direction
3) The Nuclear Family – Surface Noise – [The Nuclear Family]
4) Terrell Drayton – Detroit: Become Human – [Belle Isle Music]
5) Rai Scott – Lazy Sunshine – [Church]
6) DJ Rou – 4Phenia – [Bosconi Extra Virgin]
7) Domenick Hunter – Citra Galactique – [Orion Arm]
8) Gene Tellem – NYC Meditation – [Wolf Music]
9) Hayes & Zeitgeist – Rose Opal – [Moonshoe]
10) Bobby Cazanova – 2nite Can Wait – [childsplay]
2nd hour exclusive guestmix by UMngomezulu (Vinylifestyle Rooftop, Johannesburg, South Africa)
1) Ivan Garci – Sunset Melodies – [Vlosfer]
2) Ryan Davis – Dimmed (Gorje Hewek & Izhevski Remix) – [Anjunadeep]
3) Hosini – Lucid – [Shanti Radio Moscow]
4) Gorje Hewek & Izhevski – Zima – [Shanti Radio Moscow]
5) Cornucopia – The Day You Got Older And Stronger – [Shanti Radio Moscow]
6) Black Loops feat. Felipe Gordon – Mia Negrita – [Toy Tonics]
7) Route 8 – Coming Home – [Lobster Theremin]
8) Hideto Omura – Kunkel Strasse – [Ondule]
9) Rasi Z – Desire – [Dream Culture]
10) Iron Curtis – Home To You – [Tamed Musiq]
11) Move D – Silk Dub – [Compost]
12) M.ono & Loveless – Calcutta – [Underground Traxx]