Podcast: Play in new window | Download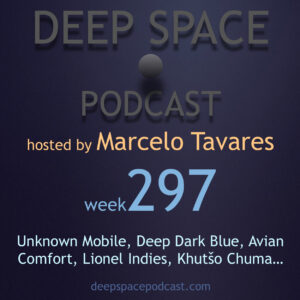 E ae!
Welcome to Deep Space Podcast! Many thanks for listening.

Oh, yeah… I'm finally back!!! I missed you so much guys! I missed my podcast routine! After 7 months, no new episodes due to a problem on the server, but it's solved and now you can listen again to your favorite podcast.

Enjoy the week297!
Playlist:
Artist – Track Name – [Label]
1) Unknown Mobile – Ravers Sojourn – [Pacific Rhythm]
2) Deep Dark Blue – Quasar – [Acid Camp]
3) Avian Comfort – Weekender – [Hush Hush]
4) Lionel Indies – Looking at the Sea (Original Mix) – [Magisterya]
5) Khutšo Chuma – Vhanna Vhashu
6) Deep Sentiments – Ominous (Original Mix)
7) Holocaos – embalosdequartaatarde
8) Anton Klint & Edvin E – Pathetic Aesthetic – [King of Kong / Tryck & Ton]
9) P Relief – Lolli – [P&D]
10) Pitto – Lepel Jazz – [OOSSHA]
11) A Vision of Panorama – Wind, Brass & Bells – [Delicieuse]
12) Phil Stroud – Banksia – [Brownswood] – (Intro)