Podcast: Play in new window | Download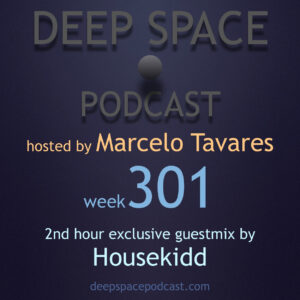 E ae!
Welcome to Deep Space Podcast! Many thanks for listening.
Today, you gonna listen an exclusive guestmix by Housekidd in the 2nd hour.
Please check more detailed information about Housekidd in the links below:
https://www.facebook.com/itumeleng.mofokeng.779
I'll play tomorrow, Sept 21st 2019 at 4e20 Music Bar, right here in São Paulo/Brazil, alongside Edu Monagatti, Rica Marinho & DJ Pixote. Catch me tomorrow playing spatial tunes to celebrate the 300 episodes of Deep Space Podcast!
More infos in the Facebook event:
https://www.facebook.com/events/2405541336205948/

Enjoy the week301!
Playlist:
Artist – Track Name – [Label]
1st hour mixed by Marcelo Tavares
1) An-2 – The Gift (D-Pulse 'Mediterranean' Mix Part 1) – [Theomatic]
2) Dazion – Eu Ñao Sei – [Second Circle]
3) Peer Du – For Those (Naked Version) – [Haŵs]
4) 60 Hertz Project – Impact Soul – [Get Loud]
5) Vertigo Inc. – The Not Now – [Unfulfillment]
6) Fede Lng – Flight Mode (Yu Su Remix) – [Axe On Wax]
7) Phonk D & Siggatunez – Intermission – [Tilly Jam]
8) Broke Brotherhood – Typical Girls – [Bobby Donny]
9) Cobblestone Jazz -Drawn From The Side Of Crime (Original Mix) – [Itiswhatitis]
10) Modern House Quintet – Nikouria – [Modern House Quintet]
11) Project Pablo – Dead Channel – [Verdicchio Music Publishing]
2nd hour exclusive guestmix by Housekidd
1) Nikita Great – Russwans – [Seven Villas]
2) Nutia – Papo – [LikeBirdz Records]
3) Stimming – Tanz Fuer Drei – [Diynmic]
4) Diwex – Tale Of A Whale – [Innocent music limlited]
5) Mastra & Pasci – Horizoniced (Pablo Bolivar New Horizon Mix) [Frieda Musik]
6) Lee Burridge Lost Desert – Float On – [All Day I Dream]
7) Roy RosenfelD – Love From Afar – [Lost & Found]
8) Jan Ketel & Siggatunez – Farbfernseher – [Imaginaton]
9) Bonobo – Cirrus – [Ninja Tune]