Podcast: Play in new window | Download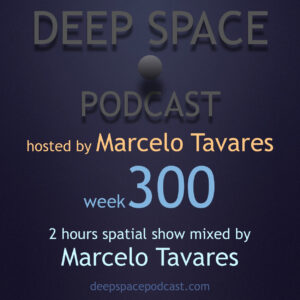 E ae!
Welcome to Deep Space Podcast! Many thanks for listening.
300 episodes! Almost 10 years in the game! Thank you all guys for the support.
Today you gonna listen a 2 hours spatial episode featuring premiere tracks by Nkosie, Roberto Bronco, Miza feat. Brian Temba, DJ Scossh Mdonori, among many other dope tunes that you only listen here at Deep Space Podcast.

Enjoy the week300!
Playlist:
Artist – Track Name – [Label]
1) Nkosie – 231217
2) Roberto Bronco – Golden – [Deep Inspiration Show]
3) Spacetime Continuum – Only One Sky – [De:tuned]
4) Capofortuna – Just Chilling – [Cognitiva]
5) Yadava – Good Mourning – [Omena]
6) J. Morrison feat. Jack Baldus – City Of Night – [Nervous]
7) MIZA Feat. Brian Temba – Higher
8) Kandinsky & Mr. Fries – Stranger – [Wolf Music]
9) Dorisburg – Rytm804 – [!K7]
10) Margaux – Water On Mars – [Smallville]
11) Soela – White Becomes Black – [Kompakt]
12) Kid Fonque – Undefined (Atjazz Remix) – [Stay True Sounds]
13) Alton Miller – Speaking Of The Future – [The Playground]
14) DJ Guerrinha – Estação Uruguaiana – [40% Foda/Maneiríssimo]
15) LoYoTo – Buchin (Original Mix) – [Foul & Sunk]
16) Fish Go Deep – Baroque Tape – [Swedish Brandy Productions]
17) Black Light Smoke – Nothing Makes Me Feel (Good Anymore) – [Scissor & Thread]
18) Bike Thieves – Catherina – [Vastkransen]
19) Julio Victoria – Astrolabe – [Church]
20) Ray Ray – Grace – [suol]
21) Nkosie – Infinite Space
22) DJ Scossh Mdonori – Moving on
23) S. Channel – Earthshatter – [Third Try]
24) Narchbeats – Cheeks – [Soundway]
25) Philippe Cam – Cocoa Beach – [Traum]