Podcast: Play in new window | Download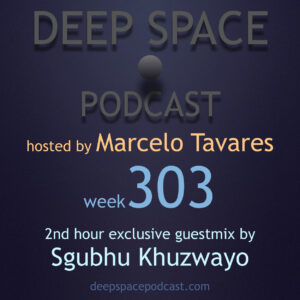 E ae!
Welcome to Deep Space Podcast! Many thanks for listening. 
You gonna listen today an exclusive guestmix by SGUBHU KHUZWAYO in the 2nd hour.
Please check more detailed information about Sgubhu Khuzwayo in the links below: 
www.facebook.com/sandile.sgubhukhuzwayo
soundcloud.com/detectmusic
djsgubhupodcastmixtape.podOmatic.com
russianamauetes.podomatic.com
soundcloud.com/detectmusic
Enjoy the week303!
Playlist:
Artist – Track Name – [Label]
1st hour mixed by Marcelo Tavares
1) Greg Foat & James Thorpe – Elementary Physiology, Pt. 1 – [Athens Of The North]
2) Molinaro – Her Theme – [Apron]
3) S3A – Fever (Dampé French Retouch) – [Dirt Crew]
4) Romaal Kultan – Isit – [YAM]
5) Call Super & Parris – Majenta – [CANUFEELTHESUNONYRBACK]
6) Simbad – Oozing (Instrumental) – [BBE]
7) Sable Blanc – I Almost Lost My Hat In A Cab (Bonus Digital Only) – [Salin]
8) Ian Simmonds – The State (Larry Heard Aka Mr. Fingers Deep Mix) – [Goldmin]
9) PHCK – A Flock – [All Day I Dream]
10) Desos – Dubs – [Deso]
11) Keita Sano – Mother – [releisure]
12) Kuniyuki Takahashi – Newwave Project #7 – [Mule Musiq]
2nd hour exclusive guestmix by Sgubhu Khuzwayo
1) Robert Cashin – You Can't – [Flumo]
2) DJ Boogie Kush – Acid Cut – [Lobster Theremin]
3) Felix Leifur – Juledreng – [Bobby Donny]
4) Iron Curtis – Boorang – [Tamed Musiq]
5) Tom Flynn – Marx – [Planet E Communications]
6) The Revenge – Searchlight – [Dirt Crew]
7) Unknown Artist – B1 – [Vibes LTD010]
8) Emre Can Swim – Slide in Deep – [Artesian Sounds]
9) Jayden Klight – Borderline – [Seven Villas]
10) Jimi Jules – Midnight Juggernaut – [Watergate]
11) Sebastien Ledger – Underwater – [ADID]