Podcast: Play in new window | Download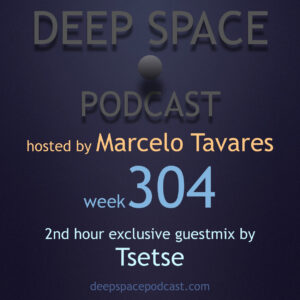 E ae!
Welcome to Deep Space Podcast! Many thanks for listening.
Good news! Now you also listen to Deep Space Podcast at Dublab Brasil, every Fridays at 9pm BRT (2am South Africa / 5pm Los Angeles). I've joined to the superb team of Dublab with an exclusive Portuguese version of my podcast. Check it out at http://dublab.com.br
Today you gonna listen an exclusive guestmix by Tsetse (Limpopo, South Africa). The Village Girl is here to play some bombs!
Please check more detailed information about Tsetse in the link below:
https://www.facebook.com/TSETSE.TheVillageGirl
Enjoy the week304!
Playlist:
Artist – Track Name – [Label]
1st hour mixed by Marcelo Tavares
1) Candles – Delish89 (I'm Right) – [Pear]
2) Kyle Hall – D.S.P. (Dear Sweet Potato) – [Wild Oats]
3) Dengue Dengue Dengue – Ágni
4) Jimpster – Simmering Down – [Freerange]
5) Myazisto – Wrong Inputs – [Get Loud]
6) Panama Keys – Flying Whiles – [Uzuri]
7) TB – Would? (Bostro Pesopeo Ambient Notes) – [Permanent Vacation]
8) UMngomezulu – Clouds Of Loneliness
9) Lobzar & Sbu Risk – Tampa (Lobzar`s Deeper Mix)
10) Plush Throw – Plushwhosback – [Pear]
11) Cosmonection – You – [Delusions Of Grandeur]
12) Fromwood – Unexpected Gift – [Atjazz Record Company]
2nd hour exclusive guestmix by Tsetse (Limpopo, South Africa)
1) Menzaro Suzaki – Take A Breath – [Sandy]
2) Fish Go Deep – Time Is Up – [Large Music]
3) Attek – Talk To People – [Record Union]
4) Nuno (Sea) – Playing With My Heart – [Loudeast]
5) Six & Humanate – This Is Super8 (Moti Brothers) – [Itom]
6) Tommy Largo – Street Bizness – [Robsoul]
7) Tilman – Never Go Back – [charmin]
8) Guy Johnson – She – [Disco Kicks]
9) Pohl Vinzent – Vinculous – [Yoruba Grooves]
10) Deep88 – Summer Just Can't Wait