Podcast: Play in new window | Download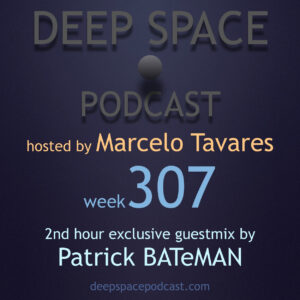 E ae!
Welcome to Deep Space Podcast! Many thanks for listening.
You can also listen to Deep Space Podcast every Fridays 9pm BRT (5pm Los Angeles / 2am South Africa) at Dublab Brasil. Listen to Dublab Brasil at:
https://www.dublab.com.br
Today, you gonna listen an exclusive guestmix by Patrick BATeMAN (South Africa) in the 2nd hour.
Please check more detailed information about Patrick BATeMAN in the links below:
https://soundcloud.com/eclectic_criminals
https://www.youtube.com/channel/UCts6ti10I3ftT1oB4c3FjtQ
https://vimeo.com/eclecticcriminals
Enjoy the week307!
Playlist:
Artist – Track Name – [Label]
1st hour mixed by Marcelo Tavares
1) Jullian Gomes Feat. Samantha Thornhill – Darkness – [World Without End]
2) Lavoura – Ayizan
3) Deep Sentiments – Looming Spirits (Original Mix) – [AfroMove]
4) Chris Davis – Travelling Light – [Electronic Emergencies]
5) Latch – Frida – [Colour and Pitch]
6) Soul Central – Un Amore Supremo (West Loop Chicago Remix) – [Electric Mode]
7) John Gorbera – Ensemble (Original Mix) – [Merecumbe]
8) RNDT Feat. Kleophazz – Check One Two – [RNDT]
9) Chymamusique – Bass & Synth (Original Mix) – [Chymamusiq]
10) Basic Need – Song For Leti – [Culprit]
2nd hour mixed by Patrick BATeMAN (South Africa)
Sorry, no playlist.