Podcast: Play in new window | Download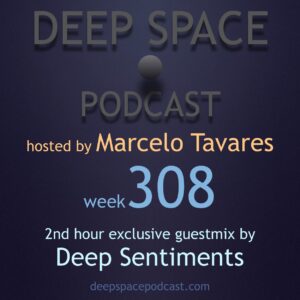 E ae!
Welcome to Deep Space Podcast! Many thanks for listening.
I'll be back in South Africa on the next month, December 2019.
For bookings, please contact Bma from We Are Rhythm agency by email:
bookings@wearerhythm.co.za
Today you gonna listen and exclusive guestmix by DEEP SENTIMENTS in the 2nd hour!
It's a two and a half hour guestmix but I can publish 1 hour only, so I've uploaded the full guestmix by Dropbox and you can download it in the link below:
week308 – Deep Space Podcast guestmix by DEEP SENTIMENTS (full guestmix)
Please check more detailed information about Deep Sentiments in the links below:
https://www.facebook.com/Deep-Sentiments-121557494610792/
https://www.traxsource.com/artist/120576/deep-sentiments
Enjoy the week308!
Playlist:
Artist – Track Name – [Label]
1st hour mixed by Marcelo Tavares
1) yunnanSound – Hall Pass (Underdog Mix)
2) Hugh Mane – Child Of Love – [Running Back]
3) DJ Hloni – Sadly (Deeper Mix) – [Ohyea Muziq]
4) UMngomezulu – Reflective Nostalgia
5) Sune – Jazzmelankoli – [Let's Play House]
6) Project Pablo – Pressure No Impact – [Spectral Sound]
7) Dosem – Visualization – [Houstrike]
8) Ap Stylez – Be There
9) Regularfantasy & D. Tiffany – Plushied (Plush Managements Mix) – [Pear]
10) Panóptica – Ojala – [Fat!]
11) Sek – Arethas House (Roy Gilles Remix 1) – [Apparel Music]
2nd hour exclusive guestmix by Deep Sentiments (
1) Cody Currie – Magic city (Original Mix)
2) Alex Agore – Emotional Conflict (Original Mix)
3) Addex – Alabama Slammer (Original Mix)
4) Thorne Miller & Jude Brown – Ethereal Dreams (Original Mix)
5) Deep Sentiments – When We Are Us (Original Mix)
6) S.A.M. – Louisiana (Original Mix)
7) Kito Jempere – Confusion (Jacob Korn Deep Mix)
8) Carlo – Everything Else (Original Mix)
9) S.A.M. – Philokalia (Original Mix)