Podcast: Play in new window | Download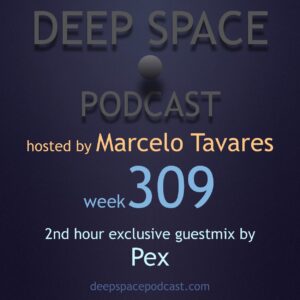 E ae!
Welcome to Deep Space Podcast! Many thanks for listening.
Today you gonna listen the exclusive guestmix by PEX (Sounds So Deep, South Africa) in the 2nd hour!
Please check more detailed information about Pex in the link below:
https://www.facebook.com/Penepex
https://www.podomatic.com/podcasts/soundssodeep
Enjoy the week309!
Playlist:
Artist – Track Name – [Label]
1st hour mixed by Marcelo Tavares
1) Brendon Moëller – Connection – [Acido]
2) Norken – Motor Breeze – [Hydrogen Dukebox]
3) Kerem Akdag – Steppin' Out – [Darker Than Wax (Back Cat)]
4) Snad – Buttery – [suol]
5) Mangabey – Joy Kill – [Toy Tonics]
6) Seb Wildblood – small talk (Jenifa Mayanja Remix) – [all my thought]
7) Mark de Clive-Lowe feat. Kim Paterson – Better Days (Unit 46 Edit) – [People]
8) Almatic – Inside Flow (Original Mix) – [Paunchy Cat]
9) Sean Diss – Mist – [Fazedores de Som]
10) Nachtbraker – Bluebottle (Frits Wentink Remix) – [Heist]
11) Soledrifter – Think Clearly (Instrumental Mix) – [Nite Grooves]
2nd hour mixed by Pex (Sounds So Deep, South Africa)
1) Don Deacon Feat. The Kat L – Secret Garden – [Farside]
2) Cadatta – Suger Cubes (Llias Katelanos Remix) – [Hypothermik]
3) Todd Omotani Feat. Jaidene Veda – I Left My… (Todd Omotani Main Mix) – [Amenti Music]
4) Gene – Keyboards & Heaetbreaks (Original Mix) – [Back And Forth]
5) Kerri Chandler – House Is House – [Downtown 161]
6) Danny Clark & Jay Benthan Feat. Jocelyn Mathieu – Second Chance (Samson Lewis Dub Mix) – [Solid Ground]
7) Kings Of Tomorrow Feat. Dawn Tallman – Let It Go – [Defected]
8) Nacho Marco – Fearless – [Plastic City]
9) Jonathan Mayer Feat. Anna Cavazos – Can't Hold Back (Main Mix) – [Madhouse]