Podcast: Play in new window | Download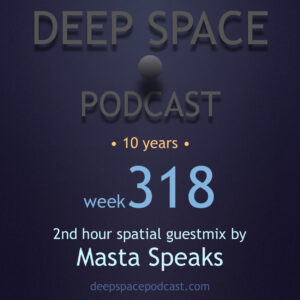 E ae!
Welcome to Deep Space Podcast! Many thanks for listening.
Starting from today, a spatial season of guestmixes for the Deep Space Podcast's 10 years celebration.
The first spatial guestmix is delivered by Masta Speaks from YDE Pub (Durban, South Africa).
Enjoy the week318!
Playlist:
Artist – Track Name – [Label]
1st hour mixed by Marcelo Tavares
1) Wohltat – Hyperbolically – [Nidra Music]
2) Adam Emil – Hovedspring – [Piff]
3) Christian Tiger School – If You Want To – [Lissoms]
4) Housenigga's – 02 – [Paunchy Cat]
5) Bipolardepth – Cammeo – [Udacha]
6) Luka feat. Sio – Invite Me In (Dub-Mental) – [We Go Deep]
7) Statue – Admiration – [Cutters]
8) Da Lex DJ – This Is Lazy Writing (Marcelo Tavares Remix) – [Heart N Soul]
9) Vetja Lavita – Phezulu – [Vetja Music]
10) System Of Survival feat. Surfbit – Searching Searching For A Wave – [Get Physical Music]
2nd hour exclusive guestmix by Masta Speaks (YDE Pub, Durban, South Africa)
1) Synkro – Your Heart – (Sven's To Be Pure In Heart Mix) – [Apollo]
2) Marco Cassanelli – Departure At 6Am – [Rohs!]
3) Lanoche – Extasis – [So Unreal]
4) Ron Trent – Rock The Box – [Rawax]
5) Abicah Soul – Last Night – [eMUQ]
6) Darand Land – Our Pulses Are Synced – [Confluence]
7) Martin Iveson – Leave Me Here (Jimpster Remix) – [Lazy Days]
8) Hugo LX – Kansai Kick It – [Courtesy Of Balance]
9) Miltiades – Xnn – [Freebeat]
10) Öö – Inimessed – [Ibadan]