Podcast: Play in new window | Download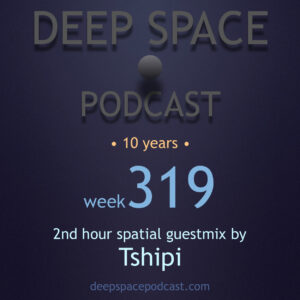 E ae!
Welcome to Deep Space Podcast! Many thanks for listening.
To keep on groovin' 10 years celebration, I bring today my super brother TSHIPI, with an exclusive guestmix recorded live in the last year at House22 (Pretoria, South Africa) in the 2nd edition of the "Ode To GovDeep". It was the first time I met Tshipi in person and I've many incredible memories from that day. Thanks a lot for joining to my tour and for keeping Govenang Maroga alive on our hearts.
Enjoy the week319!
Playlist:
Artist – Track Name – [Label]
1st hour mixed by Marcelo Tavares
1) Soul Varti – Above the Horizon (6icknature Floating Soul Remix) – [Under Pressure]
2) Jacques Renault – Faith (Lemonade Remix) – [Let's Play House]
3) Crackazat – Valentine – [Freerange]
4) Pete Moss – Deepest Feelings – [Worship]
5) Luyo – Breathe (Mus Threee Spiritual Instrumental) – [Double Cheese]
6) Paul2Paul – The Life' Lines (Chill Out) – [Lowplay Sound]
7) Chmmr – User (CLI Mix) – [Pear]
8) Veja Vee Khali – Rhythm Of Love (Main Mix) – [Khali]
9) Khalil Anthony – Shelter (thatmanmonkz Dub Remix) – [Shadeleaf Music]
10) Recloose – Honey Rocks – [Aus Music]
2nd hour exclusive mix by Tshipi
Sorry, no playlist. Recorded live at Ode To GovDeep, House22 (Pretoria, South Africa) in April 20th, 2019.