Podcast: Play in new window | Download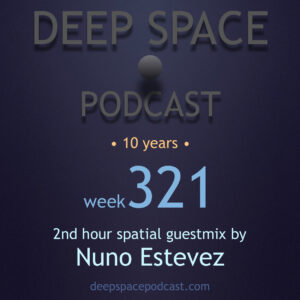 E ae!
Welcome to Deep Space Podcast! Many thanks for listening.
I bring today for the 10 years celebration a very nice mix by NUNO ESTEVEZ (Just Move Records).
Please check all dope Just Move Records releases in the link below:
https://justmoverecords.bandcamp.com
Enjoy the week321!
Playlist:
Artist – Track Name – [Label]
1st hour mixed by Marcelo Tavares
1) David Marques – Search – [Movimento Casa]
2) Nini Maluks – Won't Forget You (Nini-JazzMeloz Instrumental Mix) – [Laminar-Wavy]
3) Chromatic Filters – First Impact – [Rebirth]
4) Orn – Still (Original Mix) – [Lola Freak]
5) ZanyDeep – AEON
6) Babis Kotsanis – Voices in My Mind (Dub Mix) – [Society 3.0]
7) Deep Mayer – The Return (Original Mix) – [OHYEA MUZIQ]
8) Ant LaRock – Never Sent (Original Mix) – [Blockhead]
9) Last Nubian – Horse Rider Girl – [Pumpernickel]
10) Akio Imai – Rosetta – [La Bouee Rouge]
2nd hour spatial guest mix by NUNO ESTEVEZ (Just Move Records)
Sorry, no playlist.