Podcast: Play in new window | Download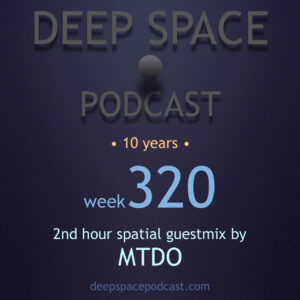 E ae!
Welcome to Deep Space Podcast! Many thanks for listening.
The 10 years celebration don't stop! Today, you gonna listen an exclusive guestmix by MTDO (The Giant) in the 2nd hour!
Monametsi Jimmy Dire is a young man from North West/Zeerust, in a small village called Moshana but currently based in Gauteng, West Rand Kagiso.
MTDO which is his stage name, is a strictly Dub Techno & Deep House Spinner. He has been loyal and strict when it comes to his sound for the longest time. He now pushes a podcast called The Giants Mixtapes which has now featured the likes of René Jazzman (Germany), Datakestra (Tokyo), Dave Marian (Romania), BMA (Sounds So Deep), Deep Tsonga (Botswana), Emma Champion (UK) and a lot more of these awesome spinners.
He is inspired by the likes of the legendary Vinny Da Vinci , Kat La Kat , Jullian Gomes , 2Lani The Warrior and more, his love for the game of far beyond he does not only play but attend and follow the music always.
he has been featured on some podcasts and radio stations to mention a few Deeper Shades Of House (#642) , Bestbeats.TV , Fathomless Live Sessions, Deep Direction, Sky High Hour, Gaborone FM (Botswana) and quite a few. And now at Deep Space Podcast!
Please check more detailed information about MTDO in the links below:
https://twitter.com/MTDO_THE_GIANT
https://www.facebook.com/TheGiantsMixtapes/
Enjoy the week320!
Playlist:
Artist – Track Name – [Label]
1st hour mixed by Marcelo Tavares
1) Colangelo – Monkey Bars – [Allied]
2) Luna Ludmila – Tendency – [Irenic]
3) TJ Manta – Amazonia (French II Remix) – [Intercept]
4) Cygnus – Ebony Starlight – [Craigie Knowes]
5) Opal Sunn – Tangerine Blues – [Touch From A Distance]
6) Monty Luke feat. Serene Arena – Wasteland_VERSION
7) Rob Belleville – Fairy Circles – [Guangzhou Underground]
8) Waellas Choice – Beneath The Sun
9) Karmasound – Dando Vueltas – [Phuture Shock Musik]
10) Jeff Swiff – Raw Tinnie (Berndt Remix) – [Intimate Venues]
11) Russ Gabriel – Nova Deep – [FireScope]
2nd hour spatial guestmix by MTDO
1) Daniel Ray – Futuro (Original Mix) – [Seven Villas]
2) Forteba – Olive Fruit (Original Mix) – [Plastic City]
3) Jose Vizcaino – Take No Shit (Original Mix) – [Seven Villas]
4) Death On The Balcony – Precepts (Original Mix) – [Do Not Sit On The Furniture]
5) Evren Furtuna & Gab Rhome – Salmo Salar (Original Mix) – [Saisons]
6) Ritz – Tape Recorded Experience (Original Mix) – [Piston]
7) Alex Albrecht Pres. Melquiades – Schaefer Street (Patrice Scott Remix ) – [Scissor & Thread]
8) Big Al, Bigz – Costa Del Sol (Original Mix) – [Ready Mix]
9) & My Mother Say – Walking (Original Mix) – [Neo Apparatus Records]
10) Sebas Ramis & Phaze Dee – Gents (Original Mix) – [Sub Urban]