Podcast: Play in new window | Download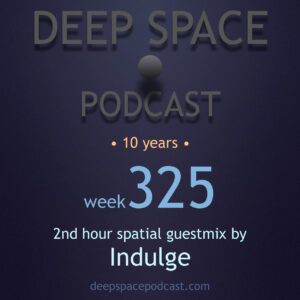 E ae!
Welcome to Deep Space Podcast! Many thanks for listening.
Stay at home listening to Deep Space Podcast!
Please support my show, donate! Check information at:
https://deepspacepodcast.com/donate
In the today's 2nd hour, you gonna listen an spatial guestmix by INDULGE (South Africa).
Enjoy the week325!
Playlist:
Artist – Track Name – [Label]
1st hour mixed by Marcelo Tavares
1) Lone – Cocoon – [R&S]
2) Ali Khan – Early Morning, Birds Hill Park – [Purespace]
3) Focus on the Breath – Eternal Life – [Cold Tear]
4) Alex Under – CMYK Dub – [Monofónicos]
5) Fingers in the Noise – Sleeping Sun – [Cold Fiction Music]
6) Radic The Myth – Quantum Drift (Original Dub) – [AfroMove Music]
7) Heavenchord – Chordalia – [Cold Tear]
8) Deni Diezer – Passing By Unrest
9) Digitalverein – Winterdumpf – [Thinner]
10) Audiokonstrukte – Lowdrift – [Cold Tear]
2nd hour exclusive guestmix by Indulge (South Africa)
1) NINZE & OKAXY – Melatonin – [Laut & Luise]
2) SKLV – Trincolamee (Hrag Mikkel Rework) – [Art Vibes]
3) Timelapse & Fathers – Arborea – [Moodmusic]
4) Ultravizion – Ignorata (Original Mix) – [The Purr Music]
5) Mahonie – Minona – [Heaven For Us]
6) Geplantes Nichtstun – Schilfeule – [AKUMANDRA]
7) Matthias Meyer & Ryan Davis – Love Letters From Sicily (original mix) – [Watergate]
8) Dave Shtorn – Luxury (Original Mix) – [Magic Room]