Podcast: Play in new window | Download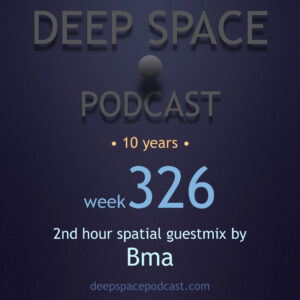 E ae!
Welcome to Deep Space Podcast! Many thanks for listening.
Stay at home listening to Deep Space Podcast! 10 years bringing the best Deep Underground electronic music.
Today you gonna listen a spatial guestmix by BMA (Sounds So Deep, South Africa). As I told his mix has 1h30min an you can download full mix in the link below:
DOWNLOAD BMA's FULL GUESTMIX HERE!
Please check more detailed information about Bma in the links below:
https://www.facebook.com/therealbma
https://www.podomatic.com/podcasts/soundssodeep
https://www.facebook.com/wearerhythmSA
Playlist:
Artist – Track Name – [Label]
1st hour mixed by Marcelo Tavares
1) Afrikan Sciences – DAILY GATES – [ESP Institute]
2) Pender Street Steppers – Raining Again – [Mood Hut]
3) Dust-e-1 – The Pink Tree – [Dust World]
4) Feroun – Baltimore Sunrise – [Yoyaku Digital Store]
5) Igor Pumphonia – Kutanami (Dub) – [ChillRecordsMusic]
6) DKMA – Manga (Adam Jace Mix) – [Manuscript]
7) Cornucopia – Orion – [microCastle]
8) Lawrence – Interference – [Giegling]
9) SQALEKTIQ feat. Ramesh Baba Ji – Mira – [Elastic Dimension]
10) Aleqs Notal – This Way – [Sistrum]
2nd hour spatial guestmix by Bma (Sounds So Deep, South Africa)
1) Coflo – Playground Samba – [Ocha]
2) po-lar-i-ty – spaceship-earth – [Yoruba]
3) Rive Gauche – 35 Rue Dauphine – [Denote]
4) Saison – Sazerac (Original Mix) – [No Fuss]
5) Dauwd – Jupiter George – [Kompakt]
6) Dauwd – Really Good (Original Mix) – [Psssh]
7) After The Cutt – Get Away – [Kuudos]
8) Jimpster feat. Casamena – One – [Freerange]
9) Jimpster – The Way It Is – [Freerange]
10) Beacon – Fault Lines (Dauwd Remix) – [Ghostly International]
11) Craig Smith & Peacey – Formula Unknown (Atjazz & Trueself Remix) – [Atjazz Record Company]