Podcast: Play in new window | Download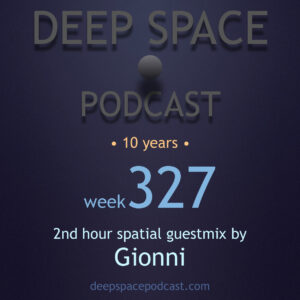 E ae!
Welcome to Deep Space Podcast! Many thanks for listening.
Today I'm bringing Gionni to the 2nd hour of the show. He hosts the Basement Transmissions channel on Youtube and he is part of a massive electronic party in São Paulo/Brasil called Dispersão.
Please check more detailed information about Gionni in the links below:
https://www.youtube.com/channel/UCIiFp9WEO68rNT3kv6cD2rg
https://web.facebook.com/Gionnimusic
https://web.facebook.com/dispersao
Enjoy the week327!
Playlist:
Artist – Track Name – [Label]
1st hour mixed by Marcelo Tavares
1) Nikolaienko – Wir Bauen Eine Neue Welt – [Muscut]
2) Simon Mann – Valley – [Hypnotic Room]
3) Brigitte Barbu – Sainte amante – [Circus Company]
4) Flame – Sweet Dreams – [Cheetah Play]
5) JahJazz – Deep Hole – Movement 6
6) Hidden Spheres Soon We'll
7) Paul Woolford – Son – [Aus Music]
8) Patrick Holland – Soaked
9) Huerta – Pain Relief – [Voyage]
10) Calm – Ending of Summer, Beginning of Autumn (Yuri Shulgin Remix) – [Hell Yeah]
11) Square Fauna – Scrolls – [Firecracker]
12) Dust-e-1 – Enthusion – [Dust World]
13) Alan Dixon – Ambient Braindisk – [Running Back]
14) Sad City – Twilight (or Tightrope)
2nd hour spatial guest mix by Gionni (São Paulo, Brasil)
1) Sinan Alakus – Are U Ok? – [Lonely]
2) Miltiades – Outermost Sensitive Paranoia – [Synapsis]
3) Mystical Institute – Minds Rising – [Perpetual Rhythms]
4) Innerspace Halflife – Magical Rings – [Synapsis]
5) Aleqs Notal – Lighten You Up – [Sistrum]
6) Loopz The Maestro – Dusk – [Moods & Grooves]
7) Miruga – Blue Space – [Altered Moods]
8) Javonntte – Jazz Day (Patrice Scott Remix) – [Chubby!]
9) Yasuo Sato – Stringent Jade Stone – [Aesthetic Audio]
10) Leonid Nevermind – Passions Limiter – [Stolen Kisses]
11) DJ Jus Ed – The Day Before – [Underground Quality]
12) Motion Process – For Da Mind – [Life Notes]
13) Trinidadian Deep – Obi (HVL Robotic Edit) – [Rough House Rosie]