Podcast: Play in new window | Download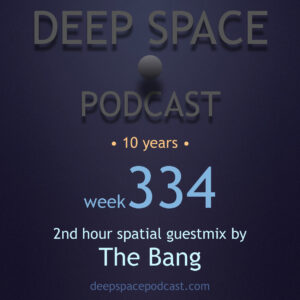 E ae!
Welcome to Deep Space Podcast! Many thanks for listening.
Today, I'm glad to host for you guys a spatial guestmix by TheBang DJ! I've met him in the last year at San Deck, located in Sandton, Johannesburg, South Africa. It was a great musical journey that he played over a beautiful sunset together our good fella Maze MrPain.
Please check more detailed information about TheBang DJ in the links below:
Facebook
Instagram
Soundcloud
Enjoy the week334!
Playlist:
Artist – Track Name – [Label]
1st hour mixed by Marcelo Tavares
1) Wade Watts – This Would Be The House (Original Mix)
2) Bob Angetti – Dusk Lights – [Chillnova]
3) Kemback – Everything (Admin Remix) – [Alfresco Disco]
4) E. Live – Sunny Side Up – [Star Creature]
5) Dust-e-1 – Hutchin – [Dust World]
6) Hector Moya – Riviera – [Kamari]
7) Mikhail Ovez – Acquarium – [Armoracya]
8) Vick Lavender – So Whatcha Got (Sophisticado Vintage Mix) – [Sophisticado]
9) Asana – Fields Of Elysium (Original Mix) – [LW]
10) Golden Tone Radio – Black Martini – [Golden Hearing]
11) Riccardo Lippi – Damn Madness – [Orange Bridge]
12) Romaal Kultan – Everlasting Romance – [Tiff's Joints]
13) Arms and Sleepers – Ruined by Geography
2nd hour spatial guestmix by TheBang DJ (South Africa)
1) Bjarno – Factor 30 (Original Mix) – [Music For Dreams]
2) Shkoon – Ala Moj Al bahr (Javid Remix) – [Underyourskin]
3) dZihan & Kamien – Homebase (Original Mix) – [Couch]
4) Kekstar & Stickmen – The Funk Be with You (Original Mix) – [Azania Digital]
5) Kevin Yost – What is Cool? (Downtempo Momento Mix) – [I]
6) Crazy P – Never Gonna Reach Me (Hot Toddy Remix) – [Base79 Music 2]
7) Oceanvs Orientalis – Tarlbasi (Be Svensen Remix) – [Bar 25 Music]
8) Pohl & Vinzent – Vinculous – [Yoruba Grooves]
9) Davi – Kayser Söze – [Get Physical Music]
10) DJ Buhle – Winter's Call (China Charmeleon The Animal Remix) – [DJ Buhle/VitaminDeep]