Podcast: Play in new window | Download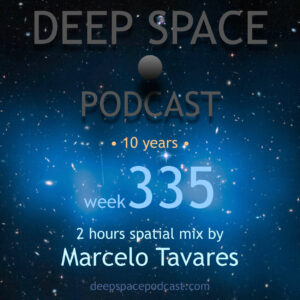 E ae!
Welcome to Deep Space Podcast! Many thanks for listening.
Yeeeaaah! Deep Space Podcast turns 10 years old today!
Many thanks for you support! Thank you very very much for listening! Time flies… To take the celebration to another level, I've recorded a 2 hours spatial mix for this episode, and I'll host a virtual party alongside party_distancing's crew by their Twitch channel! Join us! The lineup for the Deep Space Podcast 10 years @party_distancing is:
Saturday, June 27th 2020 GMT-3 (4pm South Africa)
https://www.twitch.tv/party_distancing
11am Marcelo Tavares
1:30pm Koncept (Certified Heat)
3pm André Ribeiro
4:30pm Mauricio UM
6pm Renato
7:30pm PG
9pm Regis Ue
10:30pm Debbie
11:59pm Marcelo Tavares
Enjoy the week335!
Playlist:
Artist – Track Name – [Label]
2 hours spatial mix by Marcelo Tavares
1) Microphase – Thru The Night
2) Afterlife – Into the Heat – [Subatomic UK]
3) Space Dimension Controller – The Love Quadrant – [R&S]
4) Jura Soundsystem – Movement – [Isle Of Jura]
5) Michael Oberling – Static – [Big Mamas House]
6) Erok Wol – Ritual for Life – [LISERX]
7) Deep Mayer – From Exile (Deep Mayer Exile Dub) – [Ohyea Muziq]
8) Werner Niedermeier & Martin Reilly – On The Ground – [Traumraum]
9) Kenny Dope Presents Collen Cohen – Ice Cream – [Dopewax]
10) LB aka LABAT – Ultimate Feeling – [Alelah]
11) Kicks – Amadeus (Original Mix) – [Rutilance]
12) Lord Of The Isles – Yanomami – [ESP Institute]
13) K-LONE – Undercliff – [CARE4LIFE]
14) Simon Hinter – Smells Like Green Spirit – [Phil]
15) Melchior Sultana – Source – [wewillalwaysbealovesong]
16) Sir LSG – Careful Careless (Sir LSG Hornstrumental)
17) Chaos in the CBD feat. Nathan Haines & Dave Koor – Emotional Intelligence (YA doma) – [Neroli]
18) Jonny Miller feat. JD73 – Apollo (Live Pass) – [Atjazz Record Company]
19) Osunlade – Landfill – [Yoruba]
20) No Moon – Wouldn't Have It Any Other Way – [Church 2020]
21) jik – kumkwat – [Bytes]