Podcast: Play in new window | Download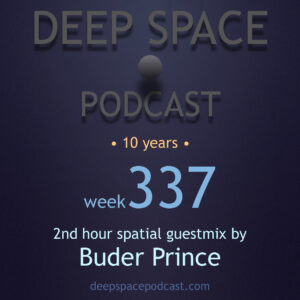 E ae!
Welcome to Deep Space Podcast! Many thanks for listening.
Many thanks for the spatial listeners of the week!
LEONARDO MELO and KEHINDE SONOLA! Many thanks for your support! One love <3
You also can be a spatial listener, please check on the page DONATE.
For the 2nd hour of the today's show, I've a pleasure to present for te 2nd time in the show my brother BUDER PRINCE (Deeper Obsession recordings, South Africa) with a spatial guestmix.
Enjoy the week337!
Playlist:
Artist – Track Name – [Label]
1st hour mixed by Marcelo Tavares
1) Leko On Pluto – Forza – [Paunchy Cat]
2) Meftah – Moral Of My Story
3) Admiral – Halfraw Meat – [Label: Wandering Eye]
4) Theoretical Speed feat. Greg Paulus & John Camp – 40 Grams of Latency – [Visionquest]
5) Hiatt dB – Everyday Break – [Rhythm Section International]
6) Tableland – Bloat Party – [Tableland]
7) Szajna – Spooky – [Phuture Shock Musik]
8) Abby Echiverri – Varzea – [Mysteries of the Deep]
9) Jakob Thiesen & Matt Thibideau – Maligne – [obsoletecomponents]
10) Philip Grass – Done With The Groove – [Periphery]
2nd hour spatial guestmix by Buder Prince (Deeper Obsession Recordings, South Africa)
1) Deep Montage KaySoul – O-WA (Andi Vasilos Remix) – [Lisztomania]
2) Tebza De SouL – Deep Feelings (Dub Mix) [Deep Obsession]
3) SGVO – Lullaby (Dub) – [Atjazz Record Company]
4) Dwson – Ethyl – [Suol]
5) Aquadeep & Veesoul – Pulse (Galactic Deeper Mix) [Deep Obsession]
6) Cosmiq & La-African Musique – Encryption Code [Deep Obsession]
7) Buder Prince Feat. Nora Jones – Healing (El Capino's Heavy Extract) – [Cultures]
8) Aquadeep & Veesoul – Never mind (Tech Mix) [Deep Obsession]
9) China Charmeleon – Reflection – [Stay True Sounds]
10) Deep Xcape – Party With Me – [Mog]