Podcast: Play in new window | Download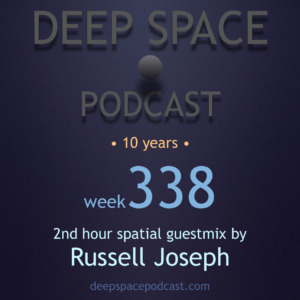 E ae!
Welcome to Deep Space Podcast! Many thanks for listening.
My guest today is Russell Joseph (Toronto, Canada) from Life at 116-118bpm Podcast.
Many thanks for joining the 10 years celebration, brother!!!
Please check more detailed information about Russell Joseph in the link below:
https://djrusselljoseph.podomatic.com
Enjoy the week338!
Playlist:
Artist – Track Name – [Label]
1st hour mixed by Marcelo Tavares
1) Absurd TRAX – Pulses – [Absurd State]
2) Jean-Emmanuel Rosnet – General Updates
3) Nikolaienko – Blue Soup Nº2 – [Muscut]
4) Byron C. – Cover-Dub – [Flabber Club]
5) Fluxion – Dawn – [Vibrant Music]
6) G-Prod – Ma Sound – [Brique Rouge]
7) Priori – SCN 1 – [DustWORLD]
8) Felipe Gordon & Kear – Son Esquivias – [Local Talk]
9) Santiago Martinez – From Wish To Swish – [Sociedad Ganica]
10) Tommy Deep – Bar Groove – [AfroMove Music]
11) Gary Hattenberger – Cotton Breeze – [Deep Inspiration Show]
2nd hour spatial guest mix by RUSSELL JOSEPH
1) Soire – Inner Vision – [BEATZ]
2) Yeophis – Fruit Of Ruination – [Exafyne]
3) Few Nolder, Good Guy Mikesh, Filburt – Private Drive (Mikesh & Filburt Remix) – [Best Kept Secret]
4) Moe Turk – Sensation – [BEATZ]
5) Villes Wax – Chose De Deux – [Papa]
6) YokoO – Letting Go – [All Day I Dream]
7) Thorne Miller, Chris Sen, Ms. Kelle – Wet Cinnamon – [Just Move]
8) Alex Danilov – Pool – [Soulstar]
9) Deep Lo, M.I.N.D – Lost In You – (M.I.N.D Remix) – [LW]
10) Quincy Ortiz – Deeper (feat. Terri B! & Toddi Reed) – [Just B! Music]
11) Alex Danilov – Fourth – [Rawax]