Podcast: Play in new window | Download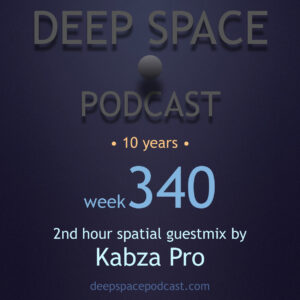 E ae!
Welcome to Deep Space Podcast! Many thanks for listening.
Tune in tomorrow Aug 1st 2020 from 9pm GMT-3 at Dublab Brasil to listen a bunch of DJs playing online in the Vibe Lacuna event. I'll play in the Sunday morning 9am GMT-3. Thanks for Grazi Flores from Lacuna Tropical for having me.
You can listen to Vibe Lacuna tomorrow 1st Aug 2020 from 9pm in the link below:
https://dublab.com.br
For the today's show, I'll host KABZA PRO (South Africa) in the 2nd hour with a spatial guestmix.
Enjoy the week340!
Playlist:
Artist – Track Name – [Label]
1st hour mixed by Marcelo Tavares
1) André Orcutt – Vermillion (Krippsoulisc Remix) – [Laboria Park]
2) absxntminded – The Soul (Paean to TMS Crew) – [AfroMove Music]
3) Something' Deep & Deep KayGee – Times – [Society 3.0]
4) Philip Budny – Too Late To Turn Back Now – [Aronia]
5) Deep Sentiments – Pretty Little Man
6) Knopha – Gym A – [Regret Sound]
7) Fatih Tuter – Ocean Machine – [Sublime Porte Netlabel]
8) Jakob Thiesen & Matt Thibideau – Empty Train – [obsoletecomponents]
9) Leon Revol – Arp Echoes – [Church 2020]
10) System Olympia – Freak 4 U – [Huntleys + Palmers]
2nd hour spatial guestmix by KABZA PRO (South Africa)
1) Chriss DeVynal – Feels So Good – [Fourth Avenue House]
2) Chris DeVynal – My Bag Of Records – [Fourth Avenue House]
3) Kayemzat Xi – Club PMWC – [Just Move]
4) Epic Soulstar & San Luis Potosie – Snanga To Germany – [Just Move]
5) Thulane Da Producer – Underachiever (Da Producer's Mix) – [Deep Resolute]
6) Who De Warrior – LemonJuice (Original TaiChi) – [6996 Music]
7) The Expendables SA – Through Spheres – [No Label]
8) Chronical Deep – Make You (My Girl) – [Stay true Sounds]
9) SGVO – Vibrations – [Stay True Sounds]
10) KqueSol – Move On – [Kquewave]
11) Reemash – You Define You – [Deep House Cats SA]